Intermediate Model for La Grande Voile [The Big Sail], 1965
Alexander Calder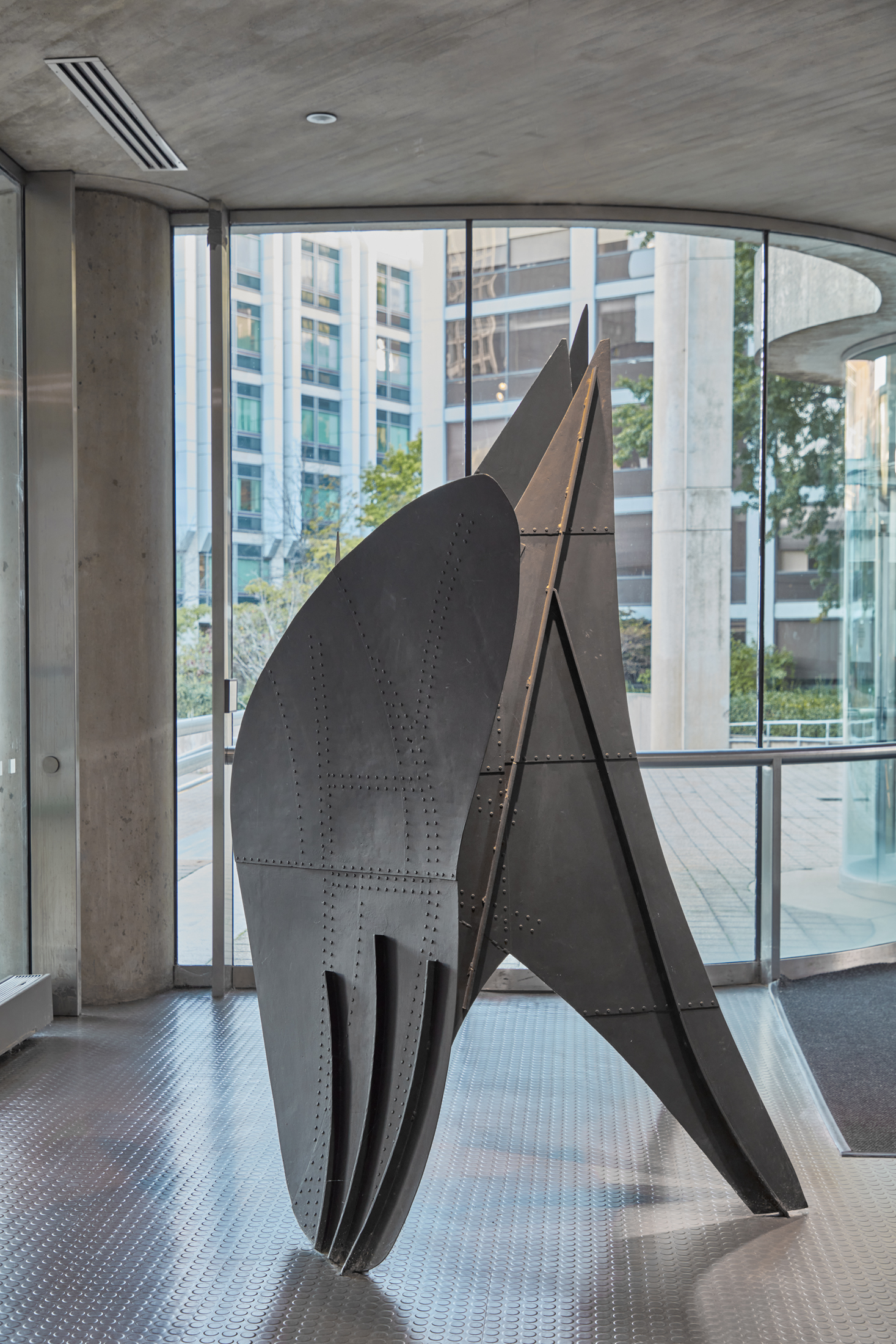 Alexander Calder is most well-known for his development of hanging sculptures in motion, which fellow artist Marcel Duchamp named "mobiles." A second major body of work is his "stabiles," sculptures that rest on a surface.
The latter term was coined by sculptor Jean Arp, who shared with Calder a biomorphic visual vocabulary. While these two approaches to sculpture necessitated different approaches to balance and composition, both employed a similar range of semi-abstract and somewhat organic shapes, usually cut from flat sheets of metal and painted in black or primary colors. 
Calder's first large stabiles date from the mid-1930s, but it was not until the late 1950s and 1960s that he began to execute them at the colossal scale of MIT's La Grande Voile [The Big Sail], which was made in 1965 and installed a year later. In approaching such monumental works, Calder did not want to sacrifice the lightness and sense of motion of his mobiles. Drawing on his education in mechanical engineering, he designed the stabiles to establish as few points of contact with the ground as possible. His working method involved making a small model that was then mathematically enlarged and fabricated in large scale under his supervision at an ironworks. The resulting pieces establish a sense of soaring dynamism despite the weight and scale of the flat, folded, and curved planes that comprise them. (La Grande Voile weighs 33 tons; a maquette of the work, also part of the institution's collection, is on view in the MIT List Visual Arts Center's first floor atrium in the Wiesner Building.)
Calder was particularly interested in the role of positive and negative space in his work. "When I use two or more sheets of metal cut into shapes and mounted at angles to each other," he wrote, "I feel that there is a solid form, perhaps concave, perhaps convex, filling the dihedral angles between them. I do not have a definite idea of what this would be like, I merely sense it and occupy myself with the shapes one actually sees." The composite forms of Calder's stabiles often suggest primeval beings, giant insects, or birds spreading their wings, and many were titled accordingly. La Grande Voile's hovering state between an abstract huddle of rounded or pointed shapes and a representation of an inflated sail is particularly noticeable at this scale, when the sculpture can be seen up close, from afar, and from different angles in the large open plaza. The massive stabile provides changing experiences of space as the viewer moves around and underneath the straight and sinuous edges. Sharp angles and jutting appendages further slice, divide, and reframe the surrounding space.
Alexander Calder (1898–1976) was born in Lawnton, Pennsylvania. After working as a draftsman, logger, and fireman, among other jobs, he turned to art, joining the Art Students League in 1923. He took a job as an illustrator for the National Police Gazette, for which he covered circus performances, and then moved to Paris, where he began to explore sculpture as well as non-commercial drawing. There, his miniature circus performers attracted the attention of artists as disparate as Joan Miró and Piet Mondrian. In 1930–31, he added motors and movement to his wire sculptures. By the following year, most of his mobiles were activated by air currents alone. In 1943, the Museum of Modern Art in New York held a retrospective of Calder's work. From that time, he was regularly exhibited internationally and his works gradually increased in scale. His largest mobile, posthumously executed, is installed at the National Gallery of Art in Washington, D.C. In 1977, also posthumously, he was awarded the Presidential Medal of Freedom, the highest civilian award granted by the United States. Calder kept a studio and house in Roxbury, Connecticut. He died in 1976, shortly after the opening of his retrospective at the Whitney Museum of American Art in New York.
Audio
Listen: Caroline Jones on Alexander Calder's La Grande Voile