Bars of Color within Squares (MIT), 2007
Sol LeWitt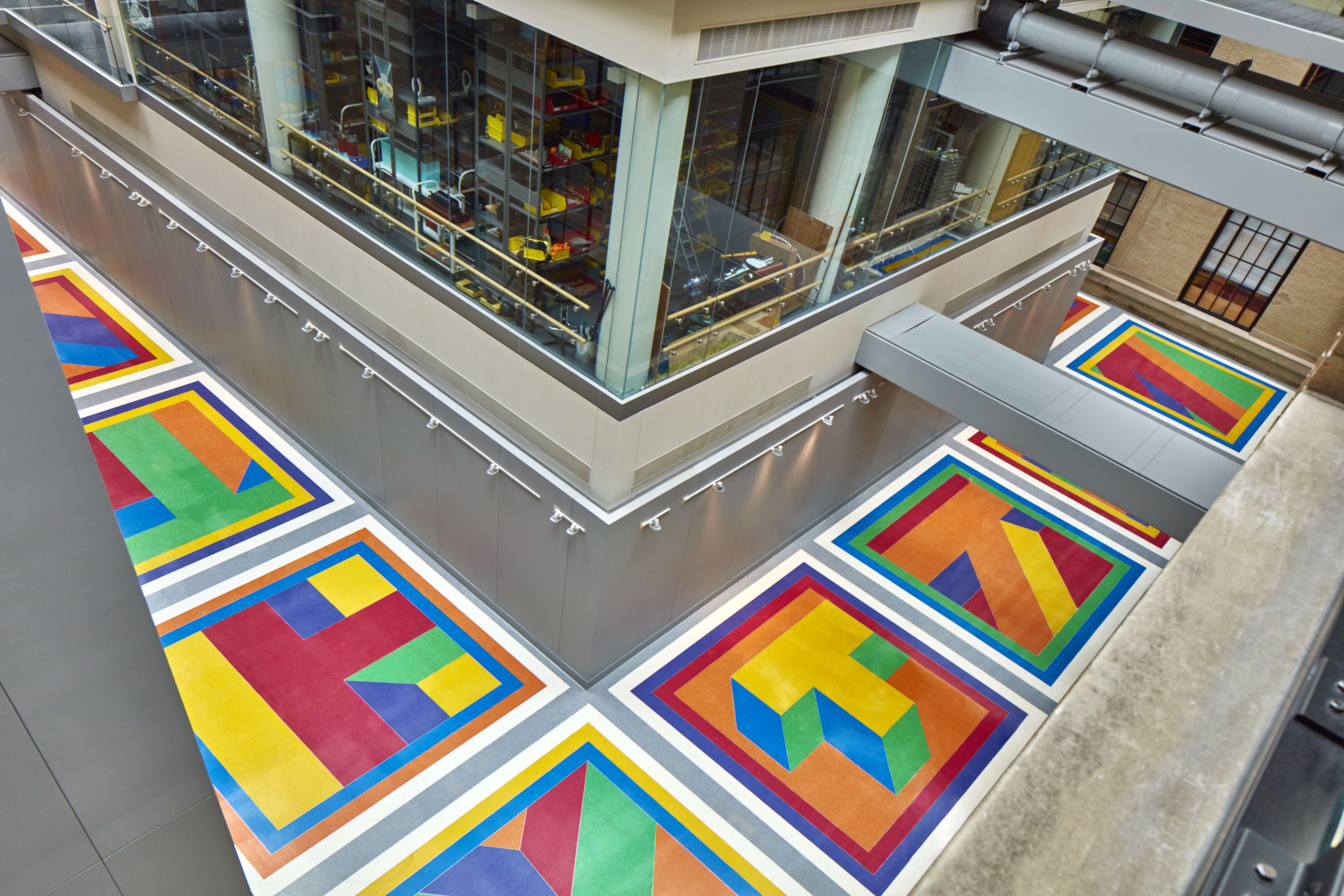 Bars of Color within Squares (MIT) is a vibrantly colored series of geometric compositions covering the floor of the U-shaped atrium in the Green Center for Physics.
Terrazzo floors have traditionally been made of chips of marble or stone mixed into wet concrete and then highly polished. Combined in carefully considered proportions, these materials can result in colors of great luminosity. Here the aggregate is composed of chips of recycled glass suspended in epoxy-resins whose playful palette complements the building's muted glass, stone, and concrete construction. Highly specific to its site in form and process, this installation, one of LeWitt's last public works, exhibits the responsiveness of art to architecture that was core to his practice, and marks a collaboration with craftspeople whose skill and precision allowed the artist's vision to be realized. 
LeWitt's work covers the entire atrium floor and consists of fifteen different geometric patterns composed of saturated, contrasting colors, each bounded by eighteen-foot squares framed by bands of white and gray. These shapes offer both flat planes, when viewed from ground level, and illusions of depth, when seen from the building's upper floors. Some of the shapes recall letters of the alphabet or building blocks of architecture, while echoing the corners and intersections of the Green Center's walkways and exposed structural supports and emphasizing its connection to adjacent buildings. 
Sol LeWitt (1928–2007) was born in Hartford, Connecticut. He studied fine art at Syracuse University from 1945 to 1949 before serving in the Army in Japan and Korea. In 1953, he moved to New York, first attending the Cartoonists and Illustrators School, which became the School of Visual Arts, and then working as a graphic designer for architect I. M. Pei. Over the course of his career, Sol LeWitt created an extensive body of permanent and temporary drawings executed directly on walls. These were typically produced by one of the artist's assistants or another draftsperson following LeWitt's specific but brief instructions. He often extended the motifs and systems of such works into public spaces, making "drawings" on floors, ceilings, rooftops, and other surfaces. LeWitt had solo exhibitions at major international institutions, including the Museum of Modern Art, New York; the Wadsworth Atheneum, Hartford, Connecticut; the Tate Gallery of Art, London; and the Whitney Museum of American Art, New York. His work is held by many public collections, including the Detroit Institute of Arts, Michigan; the Guggenheim Museum, New York; the Metropolitan Museum of Art, New York; the Museum of Fine Arts, Boston; and the National Gallery of Art, Washington D.C., among others.
Audio
Listen: Andrea Miller-Keller on Sol Lewitt's Bars of Color within Squares (MIT)