Ashdown House, 2008
William L. Rawn III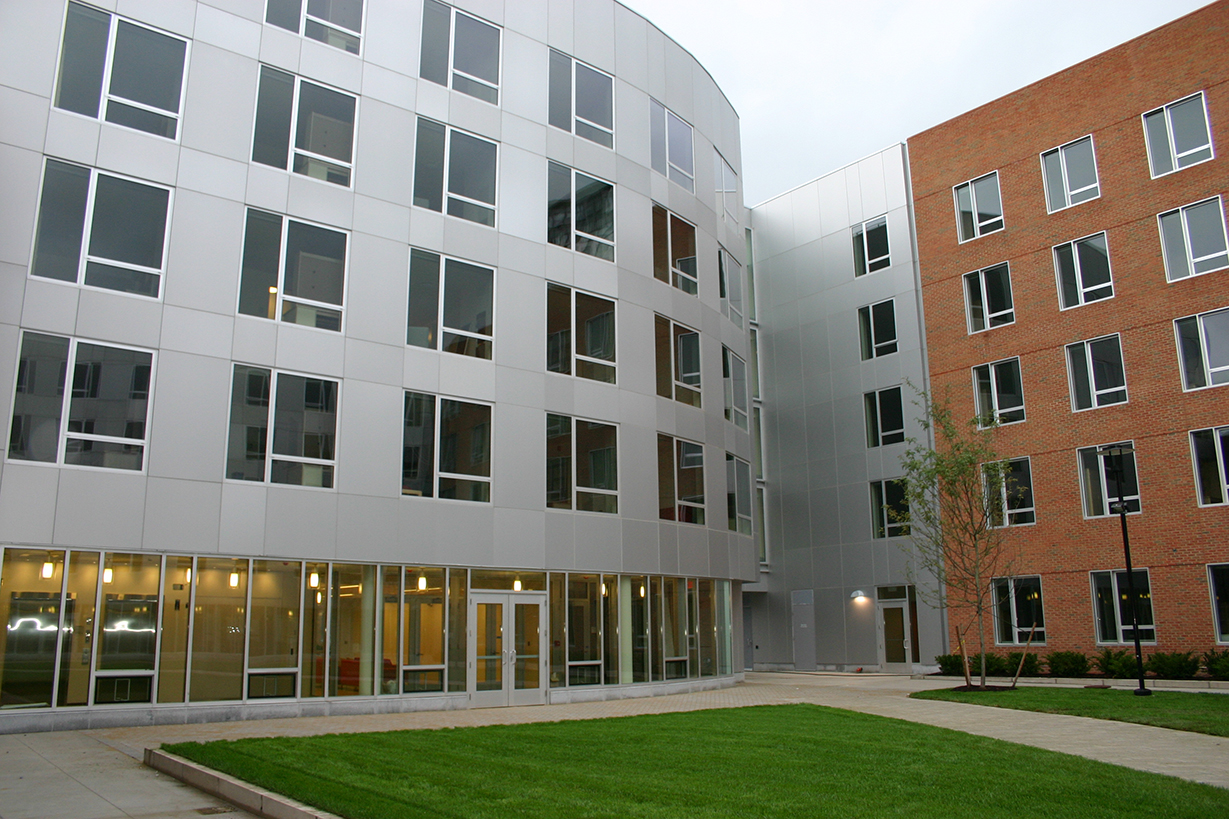 Built in 2008 to accommodate a growing graduate residential community, Ashdown House (Building NW35) was the first campus building to receive LEED (Leadership in Energy and Environmental Design) Gold certification.
The structure consists of a series of residence halls ranging from three to five stories. The aluminum and brick-clad housing blocks look out onto two interior courtyards, where residents often gather and host events. The convex curvatures of the aluminum volumes funnel residents from the sidewalk into the housing quad, while providing a visual counterpart to the assertive flatness of the brickwork. Inside, Untitled (for Conor Cruise O'Brien) 5c (1990), one of Dan Flavin's characteristic fluorescent tube pieces, hangs in the lobby stairwell, imparting a blue-green glow throughout the space. In the courtyard, the public artwork Dead Center (2008) by Lawrence Weiner is seamlessly located within the granite sidewalks.
William L. Rawn III (b. 1943) was born in Berkeley, California, and is the founding principal of Boston-based firm William Rawn Associates. After studying political science at Yale University, he enrolled in Harvard Law School and worked in law and higher education administration before eventually graduating from MIT with a master's degree in architecture. Established in 1983, Rawn's office is renowned for its work in the civic and public realms—cultural institutions, educational buildings, religious facilities, affordable housing projects, and more—which collectively illustrate the firm's sensitivity toward user needs, sustainability, light, and comfort. The firm's projects have received numerous architecture, interior architecture, and urban design awards from the AIA. Notable buildings include Seiji Ozawa Hall at Tanglewood, Lenox, Massachusetts; '62 Center for Theatre and Dance, Williams College, Williamstown, Massachusetts; and the main branch of Cambridge Public Library.