Altarpiece for MIT Chapel, 1955
Harry Bertoia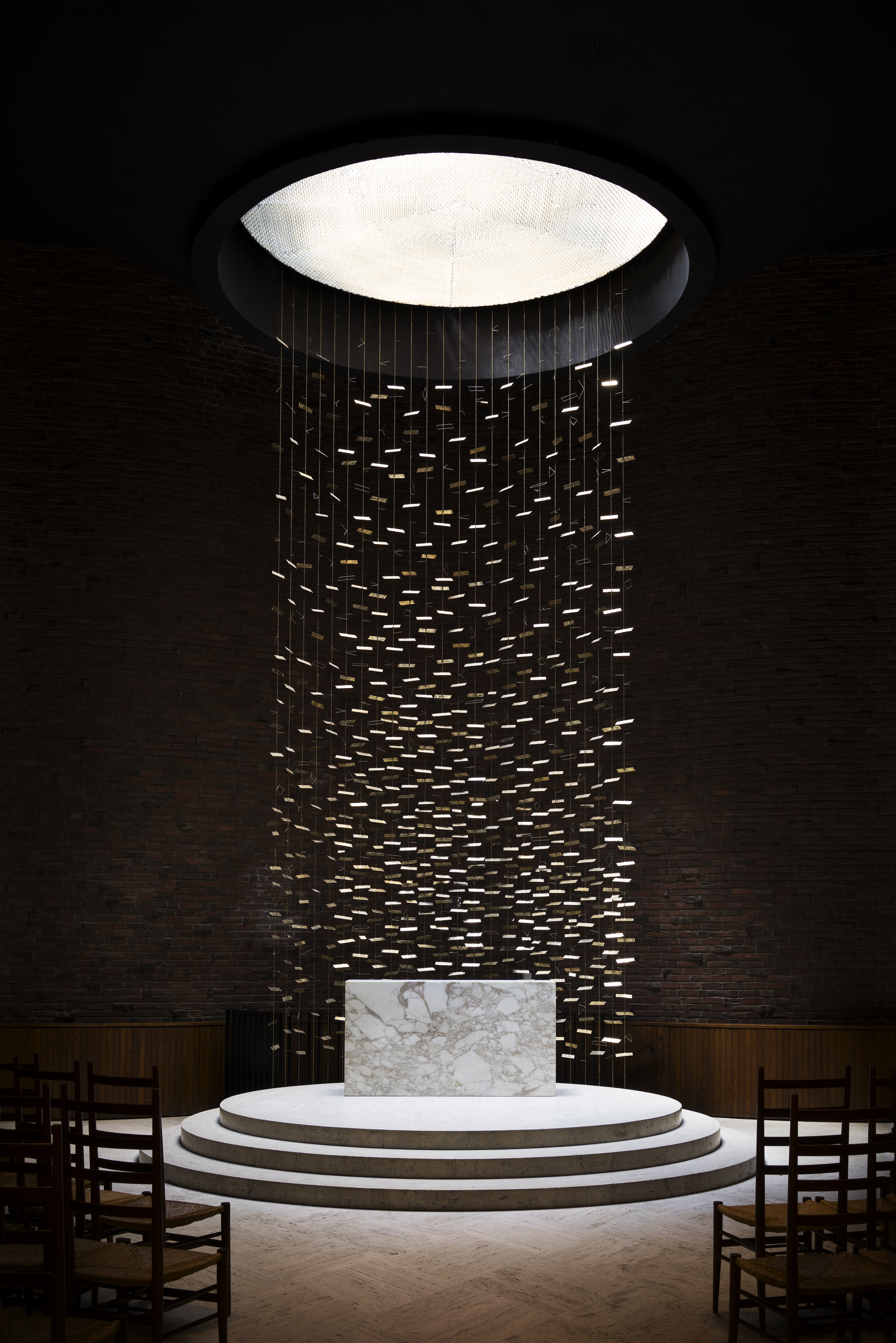 Harry Bertoia's altarpiece screen, or reredos, was commissioned for Eero Saarinen's early-Modernist, non-denominational chapel at MIT in 1955.
The chapel itself is a cylindrical brick structure—contentious in its time—in which the sole aperture is a round skylight over the altar. Suspended from this primary source of light, Bertoia's cascading, open-fret screen of slim metal rods and cross-plates patinated with bronze scatters light throughout the chapel. Adding to the impression that the work and its shimmers are descending from the heavens is the relative density of metal plates, which are sparser at the top and more concentrated at human height. One of Bertoia's most striking works, this curved altarpiece ushered in an era of spatial sculpture that liberated sculpture from its base, instead employing metal wires to unfurl the material from the ceiling.
Harry Bertoia (1915–1978) was born in San Lorenzo, Italy and immigrated to the United States in 1930. He attended the Art School of the Detroit Society of Arts and Crafts before receiving a scholarship to the Cranbrook Academy of Art. He taught metalwork at Cranbrook from the late 1930s until 1943, when the shop was closed due to the shortage of metals during World War II. Influenced by the work of peers, resident artists, and instructors, including Walter Gropius, Eliel Saarinen, and Carl Milles, Bertoia later focused on furniture design with Charles Eames and Knoll Associates, Inc., an international design firm. Bertoia received more than fifty large-scale sculptural commissions for institutions across the United States, including the Eero Saarinen General Motors Technical Center in Detroit, Dulles International Airport in Virginia, and the Civic Center in Philadelphia.