Sreshta Rit Premnath: Grave/Grove
-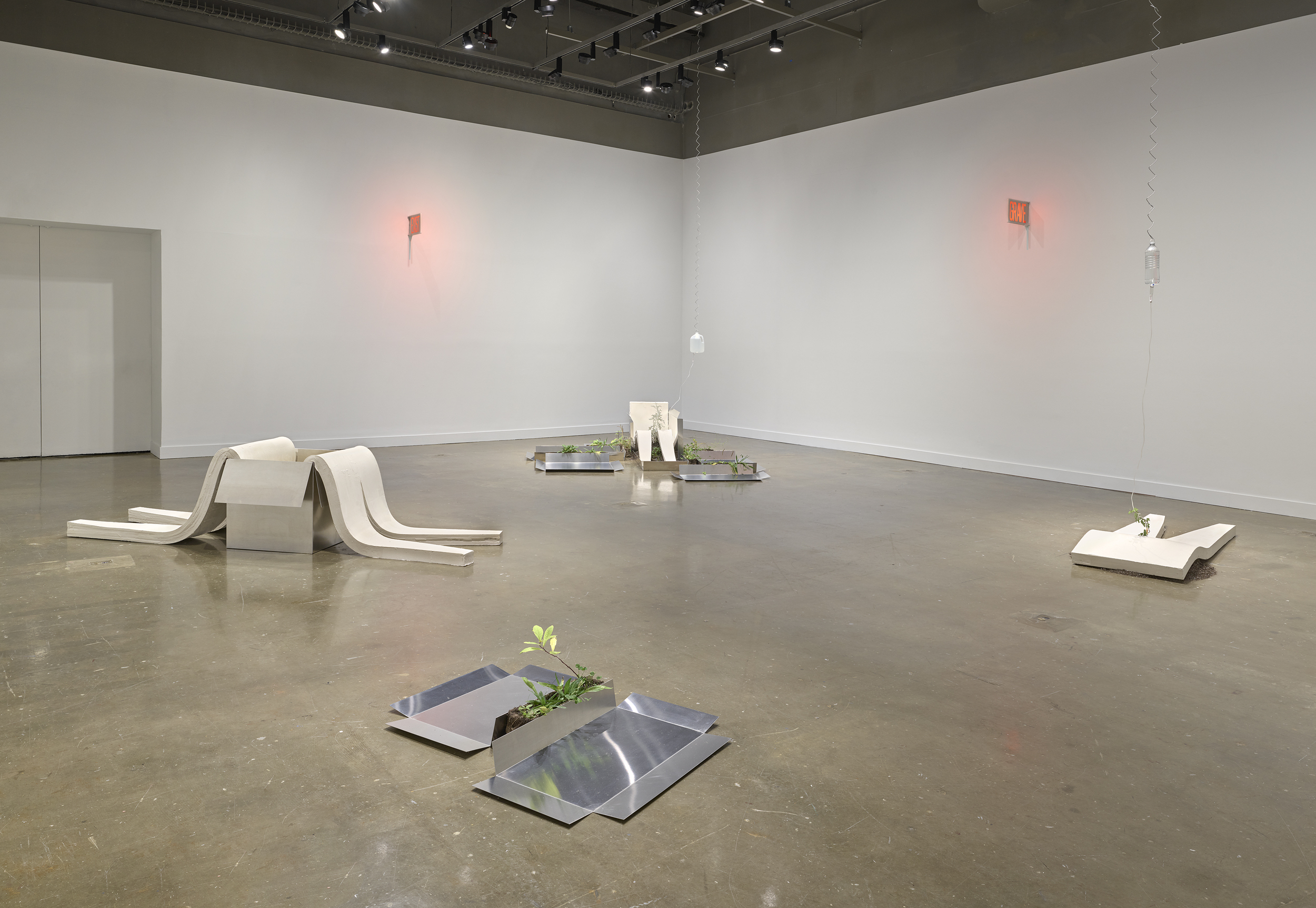 Explore all artists who have exhibited at the List in our
Artist Index
.
Sreshta Rit Premnath creates works in sculpture, video, photography, and installation that draw on the formal legacies of minimalism and conceptualism to think through the politics of boundaries, bodies, and labor in contemporary life.
In Premnath's work, the use of a line, for example, is never neutral or abstract, but rather speaks to the power to demarcate and displace. The corrugated panels, cardboard, metal fencing, or cargo and freight materials that often compose his works are not merely convenient modular readymades, but the raw material that visibly indexes "development," and the consolidation of wealth that tends to result. Recently, questions of space—who can own or occupy it—have guided Premnath's work, as has the artist's investigations of visibility, invisibility, and misrecognition as part of the everyday experiences of those who are marginalized.
His most recent work, which will debut in Grave/Grove, reflects his interest in how shared spaces of growth and care, such as community gardens or nurseries, can be embedded within the otherwise dehumanizing spaces of collective discipline and confinement, such as detention centers or refugee camps. Premnath's new works incorporate live plants—specifically, species that are considered to be weeds—that emerge from the gaps in flat, raw-cut milled aluminum panels cut to the shape of unfurled cardboard boxes. Within some of his assemblages, plaster-coated foam figures slump and lay, their bodies merging with the ground as they too become sites for growth. The use of "weeds" calls attention to the correspondence between horticultural and social systems, and what is deemed undesirable, or subject to removal. Alluding to the realities faced by individuals living a precarious or disenfranchised existence, Premnath's work extends post-minimalism's aesthetics to confront current sociopolitical conditions of austerity and dispossession—and, within them, robust sites of resilience and agency.
Sreshta Rit Premnath (b. 1979, Bangalore, India; lives in Brooklyn, NY) is an artist and the founding editor of Shifter, an issue-based journal featuring contemporary art, creative writing, and critical theory. Premnath also directs the BFA Fine Art program at Parsons School of Design in New York. His work has been the focus of solo exhibitions at Spaces, Cleveland (2007); Wave Hill, New York (2011); Contemporary Art Museum, St. Louis (2012); Nomas Foundation, Rome (2017); and the Contemporary Art Gallery, Vancouver (2019) among others. He has participated in group exhibitions including The Matter Within: New Contemporary Art of India, Yerba Buena Center for the Arts, San Francisco (2011); The Hollow Center, Smack Mellon, New York (2013); Common Space, The Kitchen, New York (2014); After Midnight, The Queens Museum, New York; So-Called Utopias, Logan Center for the Arts, Chicago (both 2015); Cartography of Ghosts, The Drawing Center, New York (2016); The Socrates Annual; Socrates Sculpture Park, New York (2017); and L'Intrus Redux, Westfälischer Kunstverein, Münster (2019), among others. He holds a BFA from The Cleveland Institute of Art (2003) and an MFA from Bard College (2006).
Premnath's exhibition is curated by Natalie Bell, Curator, MIT List Visual Arts Center, and is co-organized with the Contemporary Arts Center, Cincinnati, where a related one-person exhibition curated by Amara Antilla is on view from September 17, 2021 to February 27, 2022. This pair of exhibitions is accompanied by a special edition of the artist's journal, Shifter 25: Waiting, which was co-produced by the CAC and the List Center and follows from a series of public discussions convened by Shifter and co-hosted by the CAC and the List Center in Fall 2020 and Spring 2021.
Sponsors

Exhibitions at the List Center are made possible with the support of Fotene & Tom Coté, Audrey & James Foster, Idee German Schoenheimer, Joyce Linde, Cynthia & John Reed, and Sara-Ann & Robert Sanders. This exhibition is also supported by generous donors to the 2020 McDermott Award Gala, hosted by the Council for the Arts at MIT.

General operating support is provided by the Massachusetts Institute of Technology; the Council for the Arts at MIT; Philip S. Khoury, Associate Provost at MIT; the MIT School of Architecture + Planning; the Mass Cultural Council; and many generous individual donors. In-kind media sponsorship provided by 90.9 WBUR. The Advisory Committee Members of the List Visual Arts Center are gratefully acknowledged.