Rose F. Kennedy Greenway Conservancy Mural Project: Lawrence Weiner
-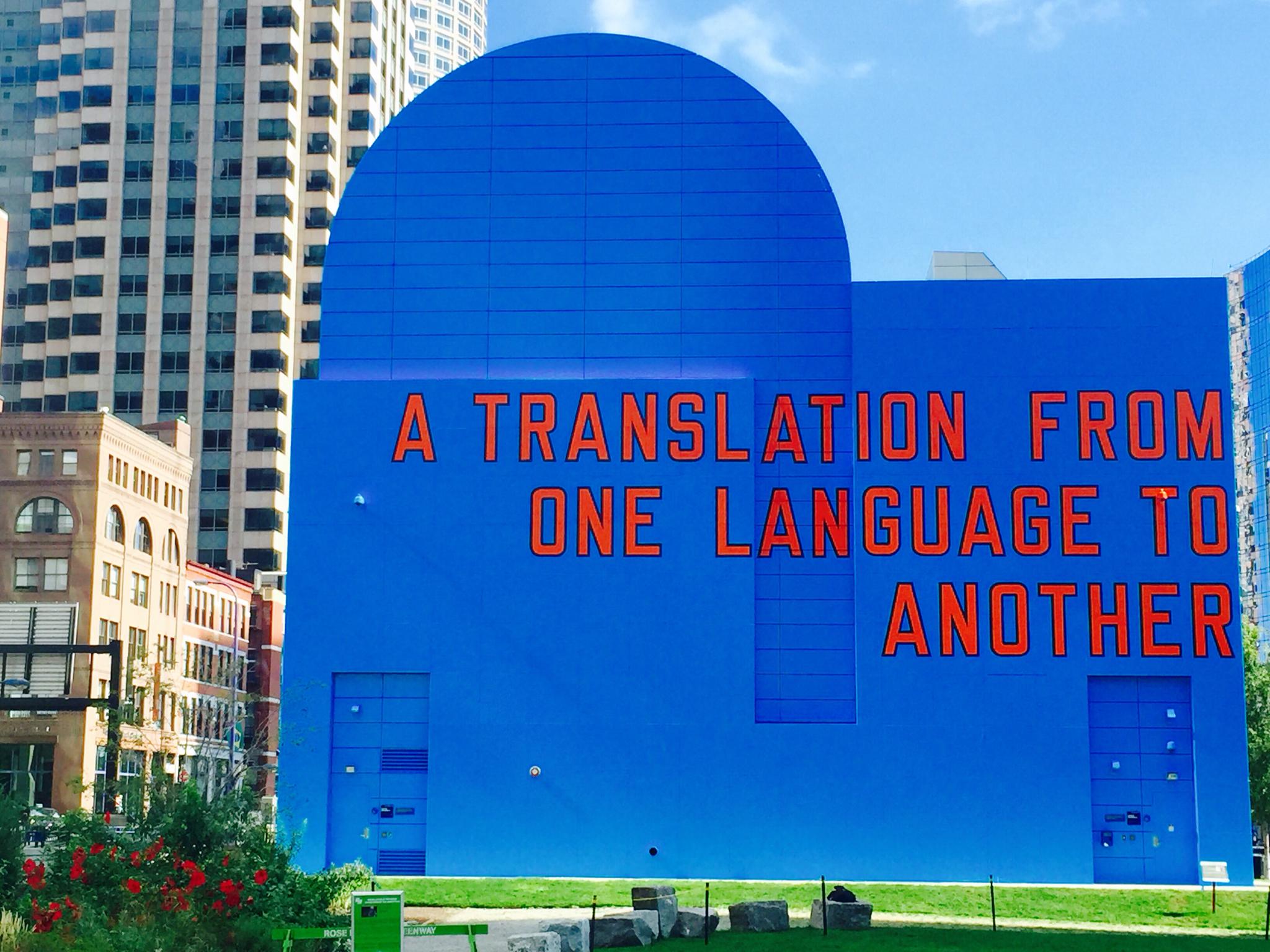 Explore all artists who have exhibited at the List in our
Artist Index
.
The Rose F. Kennedy Greenway Conservancy partnered with the MIT List Visual Arts Center on the commission of a new temporary mural by internationally acclaimed artist Lawrence Weiner for the Greenway Wall. 
Weiner's mural, a textual work titled, A TRANSLATION FROM ONE LANGUAGE TO ANOTHER, wasThe Greenway's fourth mural on the building at Dewey Square Park across from South Station.
The latest mural reinvented the Greenway Wall experience by presenting Weiner, one of the central figures of Conceptual Art. Weiner's career spans over 50-years and includes fellowships from the National Endowment for the Arts and the Guggenheim. In 2008 Weiner created Dead Center,  a new installation for MIT's Ashdown House dormitory as part of MIT's Percent-for-Art Program which commissions art for each new major renovation or campus building project. Learn more about MIT's public art collections here.
"The List Center is delighted to bring Lawrence Weiner, one of the central and pioneering figures of Conceptual Art to the Boston public," said Paul C. Ha, Director of the MIT List Visual Arts Center. "As Lawrence Weiner has said about his work, 'you are dealing with [language] something completely infinite. Language, because it is the most non-objective thing we have ever developed in this world, never stops.' We hope that the viewers in Boston take away their own individual reading of the mural after seeing it. We also hope that viewers find the work poetic, a challenge, and that it inspires conversations between those who happen to meet on the green to view the artwork."
Lawrence Weiner, born in 1942 in New York, is considered to be one of the founding members of the Conceptual art movement of the late 1960's. As a practicing artist for over 45 years, he has created nearly one thousand of his textual works as wall pieces or installations in museums and public spaces throughout the world. He has produced artist's books, audio discs, films, Internet projects, radio broadcasts, video works, performances, and numerous small "multiples." His work is in the permanent collections of the Solomon R. Guggenheim Museum, Museum of Modern Art, and the Whitney Museum of American Art, and in the collection of the Center Georges Pompidou. Lawrence Weiner: AS FAR AS THE EYE CAN SEE (November 15, 2007-February 10,2008) at the Whitney Museum of American Art was the first retrospective exhibition mounted in the United States of his extensive body of work.
The mural was privately funded by ArtPlace America, MIT List Visual Art Center, and others. Permitting support for the mural was provided by the Massachusetts Department of Transportation and the City of Boston's Art Commission.  For more information about the Rose F. Kennedy Greenway Conservancy click here.
Sponsors