KNOWMAD/MAP: Motion + Action = Place
-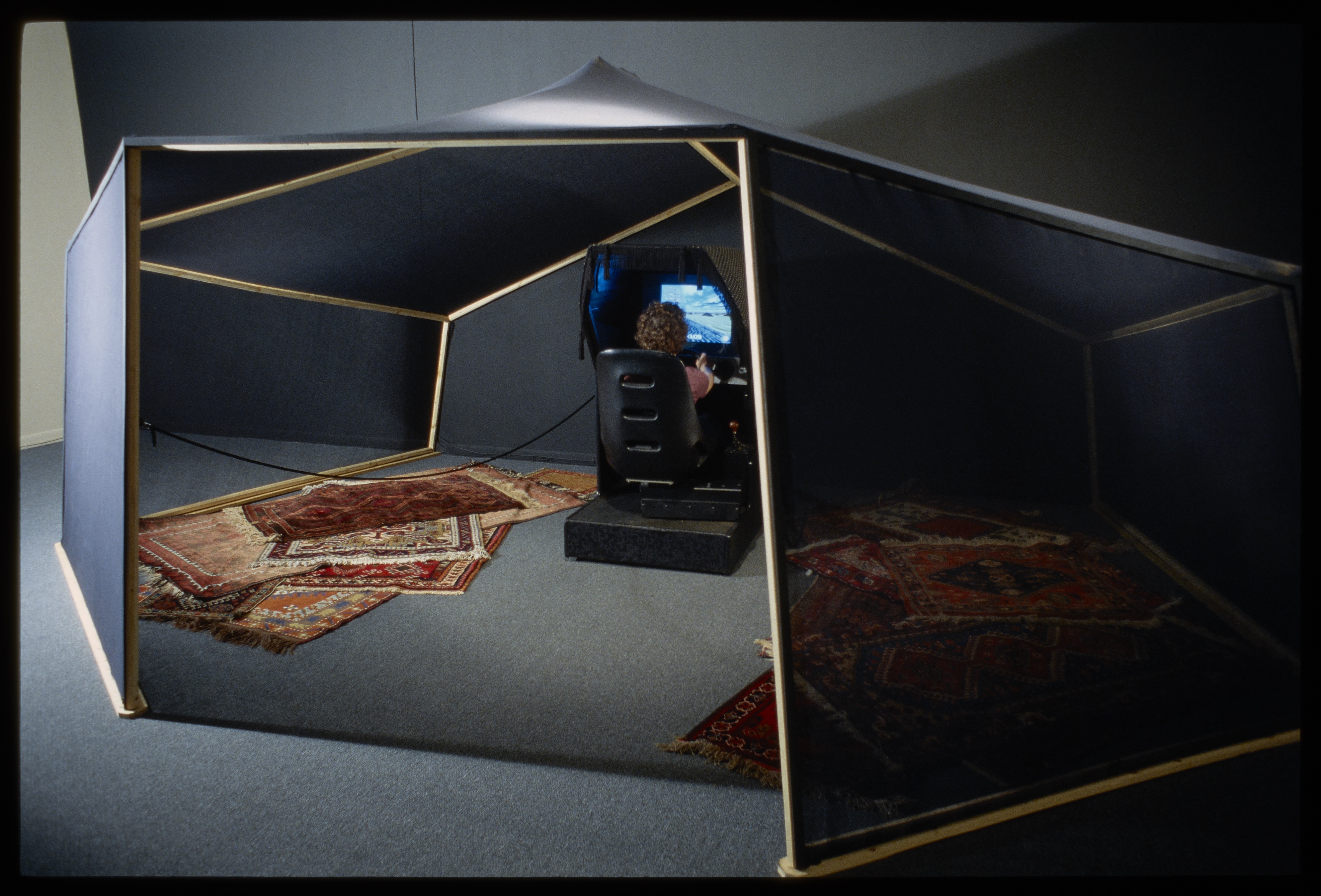 Explore all artists who have exhibited at the List in our
Artist Index
.
KNOWMAD/MAP: Motion + Action = Place is an art installation presented in the form of an arcade video game which explores the notion of territory, both real and virtual.
Visitors to the gallery may play and interact with this work, which was created by a collaborative called the KNOWMAD Confederacy. The group includes conceptual artist Mel Chin with Rocco Basile, Emil Busse, Tom Hambleton, Brett Hawkins, Andrew Lunstad, Jane Powers, and Chris Taylor.
KNOWMAD/MAP investigates notions of national identity and belonging in an era in which political boundaries are being transgressed via economic and cultural globalism as well as by technology. In the gallery, the visitor will encounter a tented room replete with Middle Eastern rugs woven in designs originated by nomadic societies of Central Asia, Iran, Afghanistan, the Caucausus, and Turkey and an arcade-like video game. The player navigates through virtual tribal rug designs in a simulated 3-d world. The experience of the game is spontaneous and generative, departing from the killing and destruction that characterize many commercial video games.
Tribal rugs represent richly charged repositories of cultural information, not only in terms of the symbolic significance of their designs, but in their provocation of scholarly disputes as to whether to specify their origins according to place (from which they frequently traveled far as objects of trade) or according to the race of their producers. (More recent scholarship has focused on social use and context as well.) The milieus of nomads past and present are thus juxtaposed, suggesting the imaginative creations that may be spawned by nomadic wandering and the embrace of change and movement.
About the Collaborative
The KNOWMAD Confederacy was initiated in 1999 by Mel Chin after he was invited to create a work for inclusion in the exhibition World Views: Maps and Art at the Weisman Art Gallery, University of Minnesota, Minneapolis (presented fall 1999). The group includes artists, computer game designers, and one musician. Mel Chin has a long record of producing politically engaged and activist art through which he attempts to foster communication and understanding among disparate socio-economic, ethnic, and national groups. He has exhibited work in single-person exhibitions at the Hirshorn Museum and Sculpture Garden, Washington, DC; Walker Art Center, Minneapolis; The Fabric Workshop, Philadelphia, and Capp Street Project, San Francisco. He has also created numerous site-specific and public artworks, recently for the cities of Houston, TX, San Jose, CA, and New York, NY. Chin's environment renewal project Revival Field (1991–ongoing) was awarded an NEA grant, which was later denied, and then reinstated upon Chin's defense of the project. 
Sponsors

Funding has been provided by the Massachusetts Cultural Council.