Alfredo Jaar: Lament of the Images
-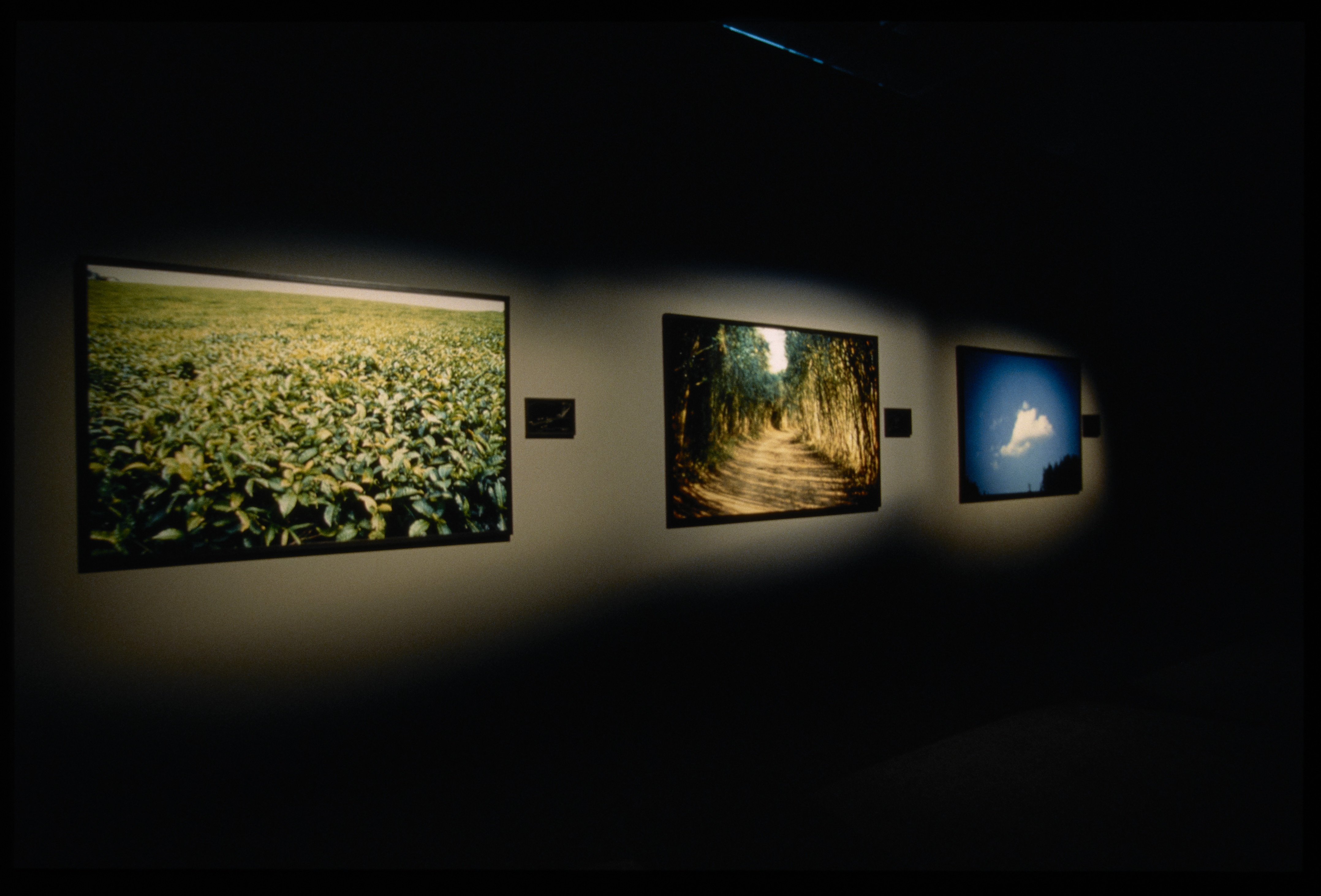 Explore all artists who have exhibited at the List in our
Artist Index
.
Alfredo Jaar: Lament of the Images is a presentation of three photography-based installation works derived from the artist's experiences in Rwanda in 1994, where he travelled to record the testimonies of the survivors of a genocide that claimed the lives of one million.
Since this trip, Jaar has produced an ongoing series of projects drawn from this experience. Comprised largely of photographs and texts, these projects attempt to counter and transform the conventions of photojournalism, which frequently objectifies violence through unmediated images of victimization. Alternatively, Jaar reverses the lens' eye to focus on the eyes of the witnesses and the hauntingly beautiful landscape in which this massacre was enacted as a means of eliciting an emotional response from the viewer.
The exhibition includes three works, The Eyes of Gutete Emerita, Let There Be Light, and Field, Road, Cloud, all dated 1996. These projects extend the artist's primary interest in reinventing the language of photo-documentation by prompting the viewer's participation in the construction and interpretation of such imagery. By appropriating the appearance of mass advertising through the use of back-lit light boxes (such as those seen in airports) in which he presents his images and the accompanying texts, Jaar slows the pace of the absorption of this information, giving the work a temporal dimension that engages the viewer more deeply in the subjects and issues he addresses. Lament of the Images is guest curated by Debra Bricker Balken, who organized the recent Arthur Dove retrospective which was seen at the Addison Gallery of American Art, Andover, Mass., the Phillips Collection, Washington, D.C., the Whitney Museum, New York; and the Los Angeles County Museum of Art. The title Lament of the Images references a poem entitled "An African Elegy" by Ben Okri. A catalogue of the exhibition, with an essay by Balken, will be available. 
About the Artist 
Alfredo Jaar was born in 1956 in Santiago, Chile and presently resides in New York. He has focused exclusively on the Rwandan genocide for the past 4 years, forming a body of work entitled the The Rwanda Project 1994-1998, which has been shown in Europe, Japan and the United States. A retrospective entitled Let There Be Light toured Spain, Germany, and the Netherlands. The artist has exhibited his work internationally, participating in the Venice, Sao Paulo, Johannesburg, Istanbul, and Kwanju Biennials, as well as Documenta in Kassel. Recent solo exhibitions include those at the New Museum of Contemporary Art, New York; the Museum of Contemporary Art, Chicago; the Whitechapel Gallery, London; the Pergamon Museum, Berlin, and the Moderna Museet, Stockholm.