Working Model for Reclining Figure (Lincoln Center), 1963–1965
Henry Moore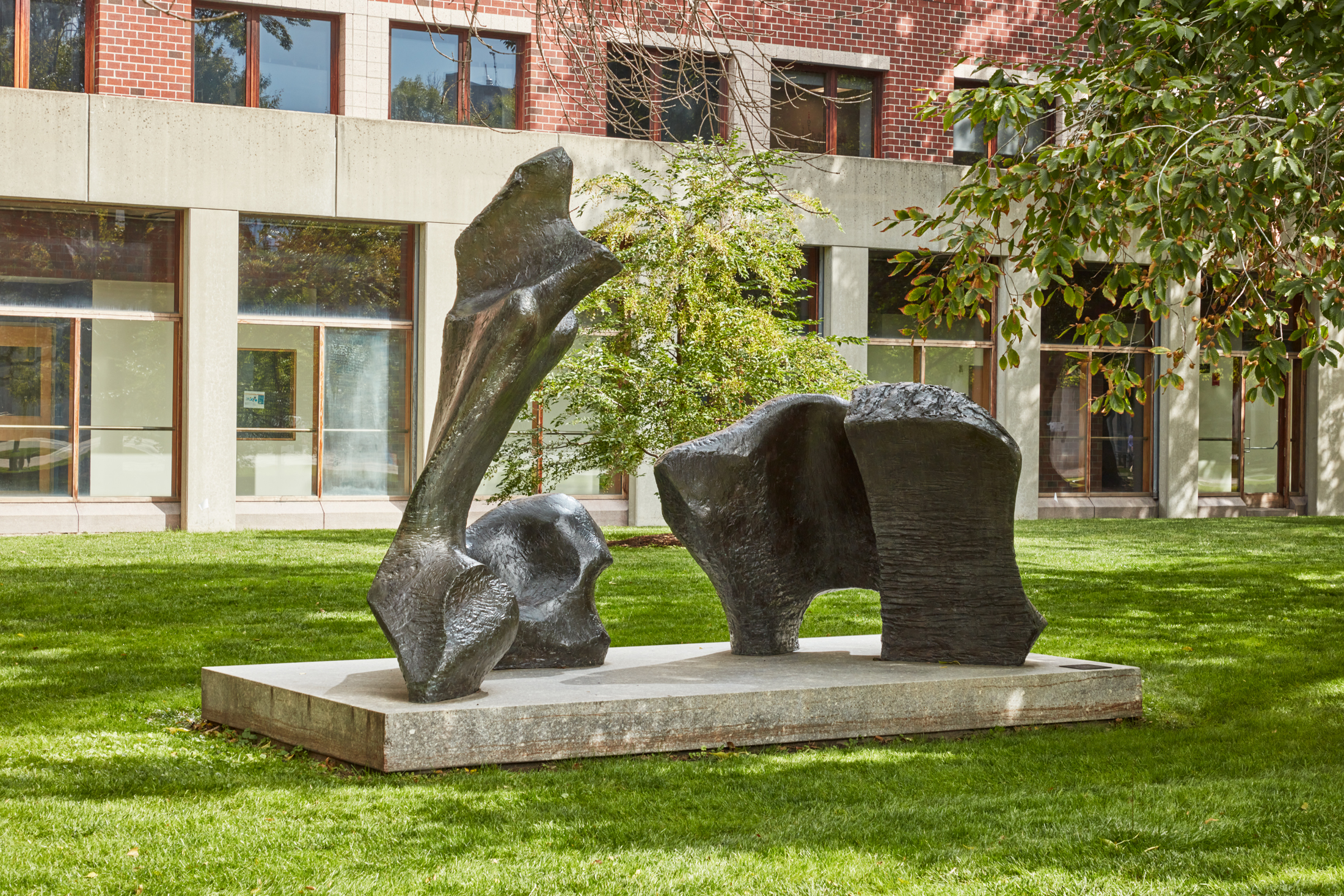 Henry Moore's Working Model for Reclining Figure (Lincoln Center), is a smaller-scale model for a sculpture begun the same year and installed at Lincoln Center in New York. (A second version is located Charing Cross Hospital in London.)
At the time of the performing arts institution's commission, Reclining Figure was the largest work Moore had undertaken, and to approximate the destination's outdoor light conditions while creating this model, Moore built an open-air garden studio and covered it with transparent plastic sheeting. He later used this studio for all of his large sculptures intended for outdoor sites.
While the final version of this work is set within a reflecting pool that suggests a submerged connection between the massive, abstracted forms, the MIT model stands on a low granite base that exposes their points of contact and allows viewers to get closer to the piece. Texture comes to the fore in this work; the bronze appears scarred and scraped in some places, creating a severity at odds with the supposedly relaxed subject. Both versions can also be viewed from a distance, where the bulbous elements suggest a heap of bones rather than a body. Moore had an abiding interest in organic forms and collected many examples of them, from stones to skulls and bones. He incorporated these into his work throughout his career, especially after the 1950s. 
Henry Moore (1898–1986) is regarded as one of the foremost British sculptors of the twentieth century. After a two-year course at Leeds School of Art, Moore was awarded a scholarship to study sculpture at the Royal College of Art in London in 1921. Perhaps more influential than his coursework were his visits to the British Museum: his early sketchbooks indicate his interest in Paleolithic fertility goddesses; Cycladic and early Greek art; and Sumerian, Egyptian, Etruscan, Oceanic, Peruvian, and Pre-Columbian sculpture. Almost all of Moore's own works from the 1920s and 1930s are carved sculptures, initially inspired by pre-Columbian stone carving, that exhibit his respect for the character of stone or wood. Another early influence was the work of Paul Cézanne, which Moore encountered on his first visit to Paris in 1923. Moore's sculpture of the 1930s reflects the artistic developments in Paris, particularly the work of Pablo Picasso, Hans Arp, and Alberto Giacometti. After the mid-1950s, the sources for many of Moore's sculptures were natural forms such as bones, shells, pebbles, and flint stones. During the last fifteen years of his life, he devoted his time to drawing, and printmaking also became a major part of his work in the late 1960s; by the end of his life, he had produced more than 700 prints.
Audio
Listen: Anita Feldman on Henry Moore's Reclining Figure (Working Model for Lincoln Center Sculpture)