Untitled (Swan), 2016
Matt Johnson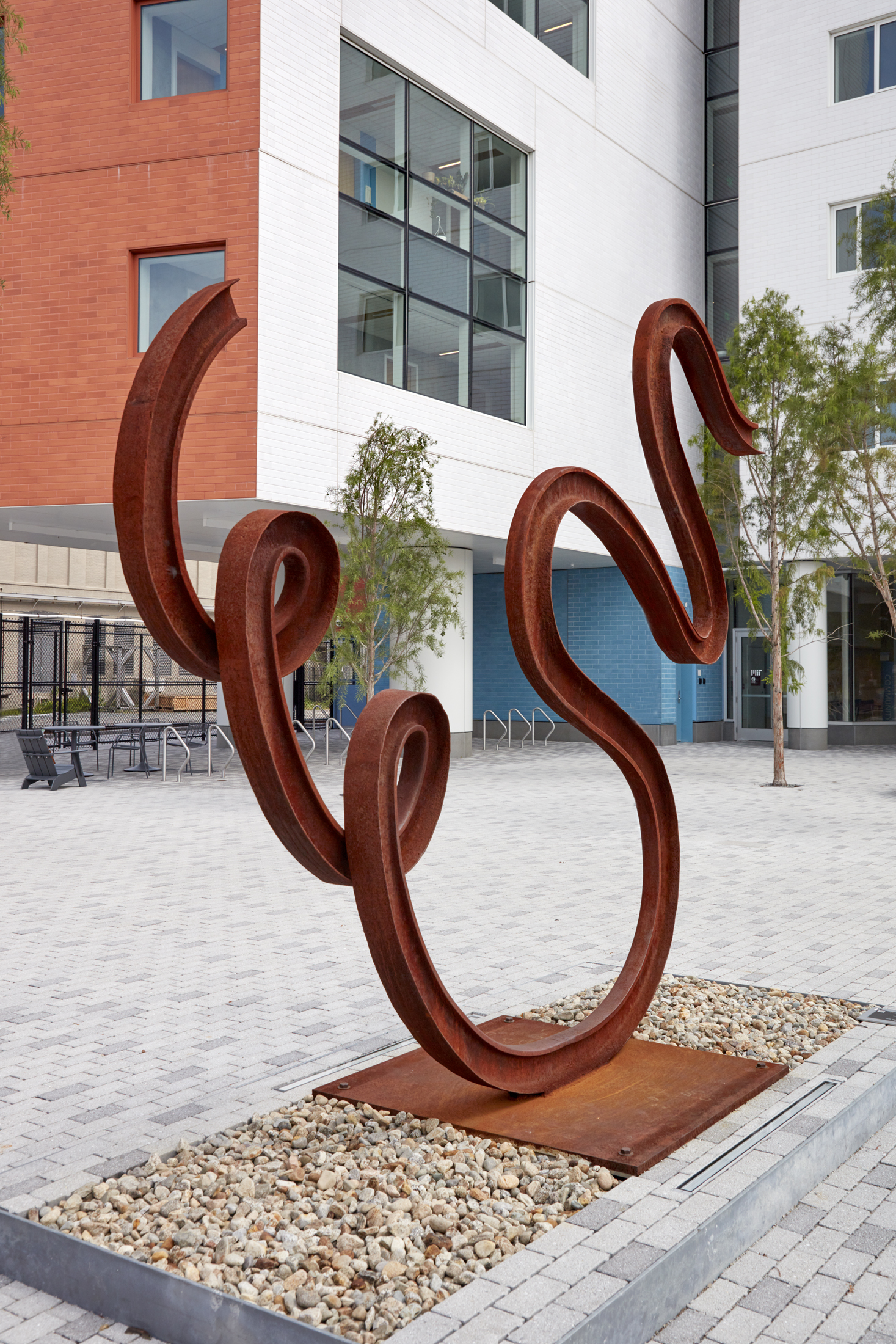 Matt Johnson's sculptures employ unorthodox and surprising materials and wrest paradoxes from objects and visual forms.
Often funny and sometimes absurd, Johnson finds inspiration for his works in everyday items, which the artist frees from their original purpose. Johnson's Untitled (Swan) debuted in New York on the High Line in 2017 as part of the group exhibition, Wanderlust, that brought together artists' meditations on "walking, journeys, and pilgrimages."
Fabricated from a bent rail track sourced from the High Line, the sculpture's serpentine curves replicate the shape of Johnson's sketchbook doodles, realizing these informal drawings in three-dimensional space and at a significant scale. The artist's use of the rail track pays homage to the High Line's history—this open space was formerly a railway offering transportation for goods along Manhattan's industrial West Side. The plaza outside of the Vassar Street Residence Hall serves as an ideal location for Untitled (Swan). The unique circumstance and relationship to the site is not to be overlooked—the train tracks to the northwest side of the building make this location an exemplary site for an artwork that is playing off the very material and history already present.
Matt Johnson (b. 1978) was born in New York City and is based in Los Angeles. He earned his MFA from the University of California, Los Angeles and his BFA from the Maryland Institute College of Art, Baltimore. He has exhibited widely in such international venues as The Hammer Museum, Los Angeles; The Mori Art Museum, Tokyo; The Saatchi Gallery, London; the Hydra Workshop, Hydra, Greece. His work is represented in the collections of Perez Art Museum Miami, Florida; the Whitney Museum of American Art, New York; and The Astrup Fearnley Museum of Art, Oslo, Norway.