Untitled #820S-01, 1992
Petah Coyne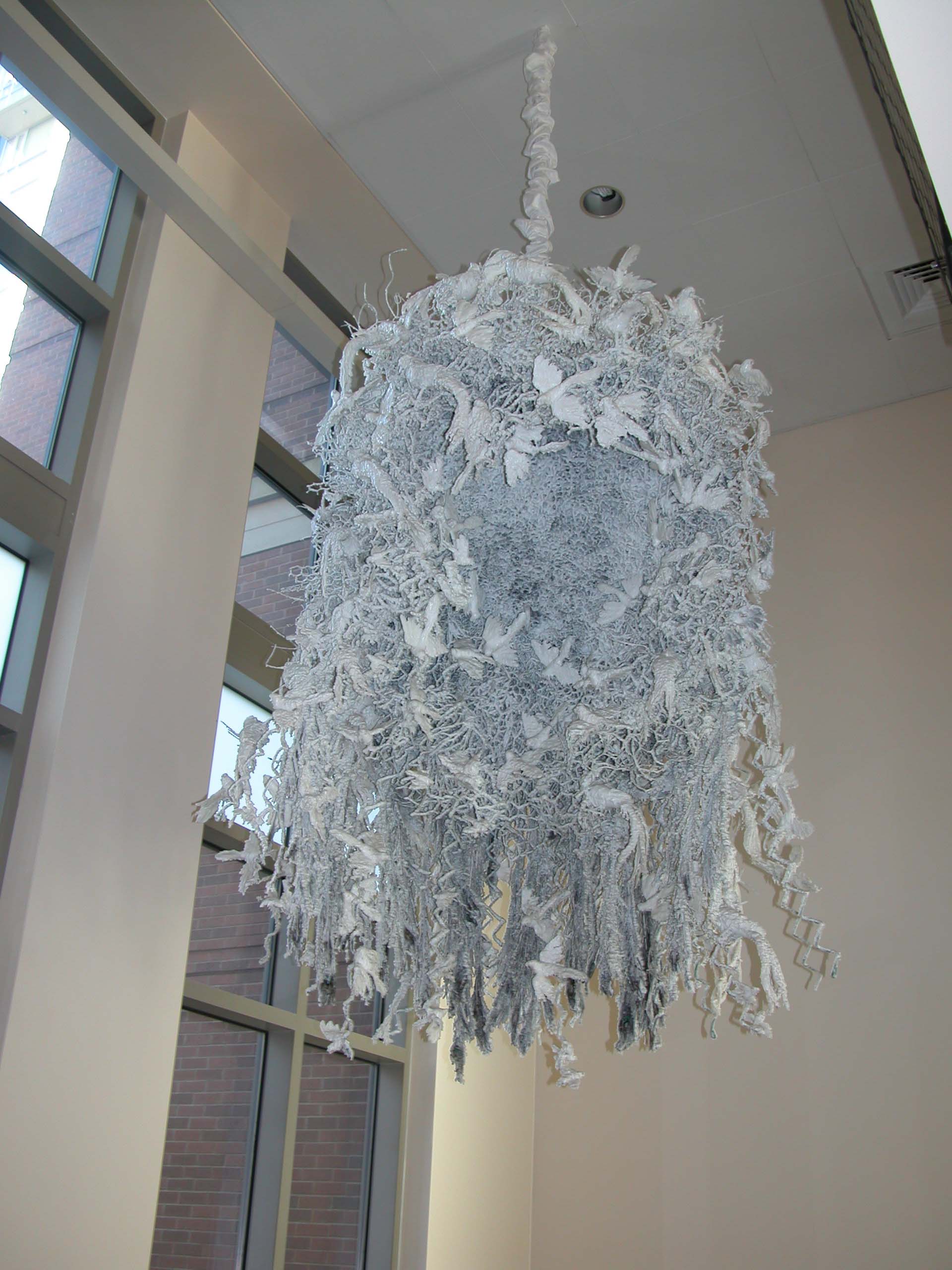 Petah Coyne explores humanist themes such as fragility and decay in large-scale hanging and floor-bound sculptures. Coyne's work is distinguished in its complex materiality and labor-intensive processes; a single work often takes the artist multiple years to produce.
Coyne's Untitled #820S-01, made over the better part of a decade, is a prime example: the suspended chandelier-like sculpture is made of disparate and nearly unidentifiable materials, including wire mesh, feathers, ribbons, artificial flora, and millinery birds, all covered in layers of wax. With its subdued chromatic scale of whites and grays, Untitled #820S-01 may at first seem to be entirely abstract, but the veil of wax trickling across its surface also resembles an accumulation of ice, snow, or fungus. Underneath that veil, as seen from below, the work's embedded objects, such as taxidermied birds in flight, are suspended in time. By contrast, the wax may allude to duration—dripping candles, or the layers of beeswax in traditional encaustic paintings. 
Untitled #820S-01 holds many opposed conditions in equilibrium. The waxy, pale assemblage suggests an exercise in preservation but also appears to be in a state of decay. Because of the curled ribbons and unbalanced composition, the work may feel animated although it hangs still. Many of its materials connote beauty, but their use here becomes grotesque and funereal. Though delicate and fragile, the suspended form is also imposing, dangling precariously over its viewers. With forms resembling a spine or a head of hair, the work may evoke a body, but its installation places it within the realm of objects. Coyne deftly combines these tensions in an intimately handled work produced for a public space—one that is also, of course, domestic and interior.
Petah Coyne (b. 1953) was born in Oklahoma City and grew up in a tightly-knit, peripatetic military family that traveled widely before settling in Ohio, where an influential high school art teacher who spurred her interest in making art. After attending Kent State University, she entered the Art Academy of Cincinnati, majoring in photography and printmaking. She moved to New York in the late 1970s and began producing a series of outdoor art installations with pendulous, bulbous, and vaguely anthropomorphic forms made of sticks, mud, and plant detritus. Later, she created similar forms with a wider range of materials, including chicken wire, cement, tar, hay, hair, statuary, wax, ribbons, and taxidermy animals. Coyne's use of these materials is largely symbolic, ceremonial, and allegorical, intended to illustrate themes of fragility, death, beauty, and decay. Her work is in numerous permanent museum collections, including Museum of Fine Arts, Boston; Museum of Modern Art, New York; Metropolitan Museum of Art, New York; Solomon R. Guggenheim Museum, New York; Cincinnati Art Museum, Cincinnati, among other institutions. Coyne lives and works in New York.
*Note - this artwork is only accessible to the public by guided tour.