Two Indeterminate Lines, 1993
Bernar Venet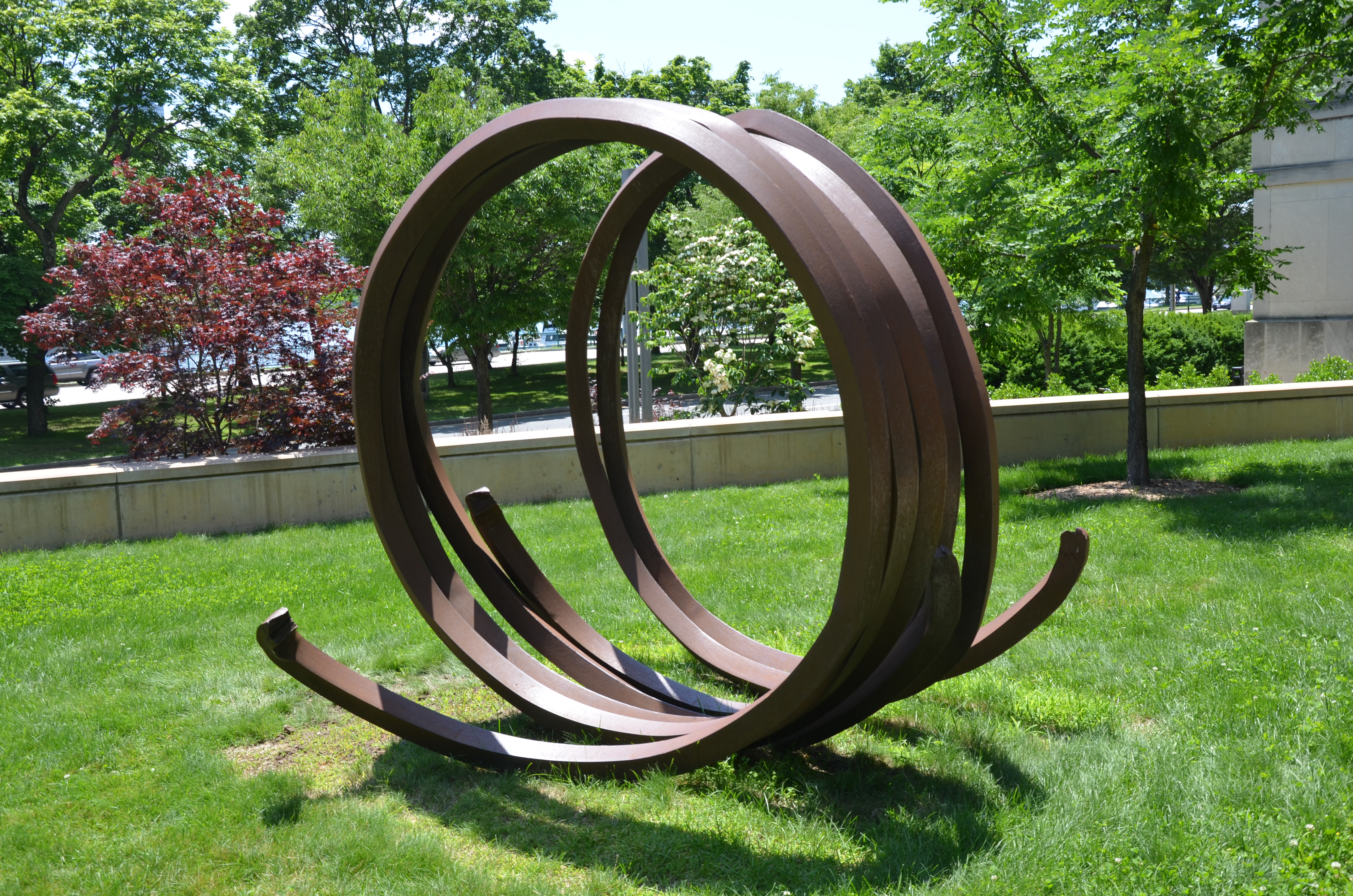 After establishing himself as a conceptual artist, Bernar Venet halted his studio practice in the mid-1970s while he lectured and taught theories of art.
When he returned to sculpture, he produced works based on mathematics, using geometric angles and arcs. From these––possibly as a reaction to Minimalism and his own earlier work––he embarked on another body of work based on randomly created lines.
Two Indeterminate Lines is one such sculpture in which two coils of rolled steel, measuring more than seven feet high, overlap like jumbled, oversized springs. The forms' directionless dynamism recalls Dadaist games of chance—this work, as with the others in the series, was first improvised in sketches on Venet's studio floor. That sense of spontaneity belies the sculpture's heft as a massive metal object. Another tension results from the tightness of the spirals, which suggests compression, as if the form might spring open at any moment. Both coils end in imperfect stubs suggestive of the slight irregularities at the end of a line drawn in pen. 
Bernar Venet (b. 1941) was born in a small village in the French Alps. As a young adult, he studied for a year at the Villa Thiole, the municipal art school of Nice, before becoming a stage designer at the Nice City Opera. While completing his national military service in Provence in the early 1960s, he converted the attic of the local army reception center into a studio and produced his first mature works of art—gestural paintings that led to photographs of heaps of coal and gravel, and then sculptures composed of piles of coal whose arrangement varied with each installation. On a visit to New York in 1966, Venet encountered Minimalist artists Dan Flavin, Donald Judd, and Sol LeWitt. He moved to New York the following year and began producing conceptual works that often used systems derived from scientific ideas. In addition to sculpture, his later work has included sound, performance, film, and furniture.
Venet's work has been featured in a large number of solo exhibitions at venues including the Museum of Modern Art, Rio de Janeiro; Institute of Contemporary Art, London; Hong Kong Museum of Art; Shanghai Museum of Art, China; and Museum of Modern and Contemporary Art, Nice, France. His works are in the collections of the Museum of Contemporary Art, Chicago; Musée d'Art et d'Histoire, Geneva, Switzerland; Museum of Contemporary Art, Los Angeles; Museum of Modern Art, New York; Solomon R. Guggenheim Museum, New York; Centre Georges Pompidou, Paris; Hirshhorn Museum, Washington, D.C.; and National Gallery of Art, Washington, D.C. In 2005, Venet was named Chevalier de la Legion D'Honneur of France.
Audio
Listen: Berner Venet on Two Indeterminate Lines