Through Layers and Leaves, 2011
Martin Boyce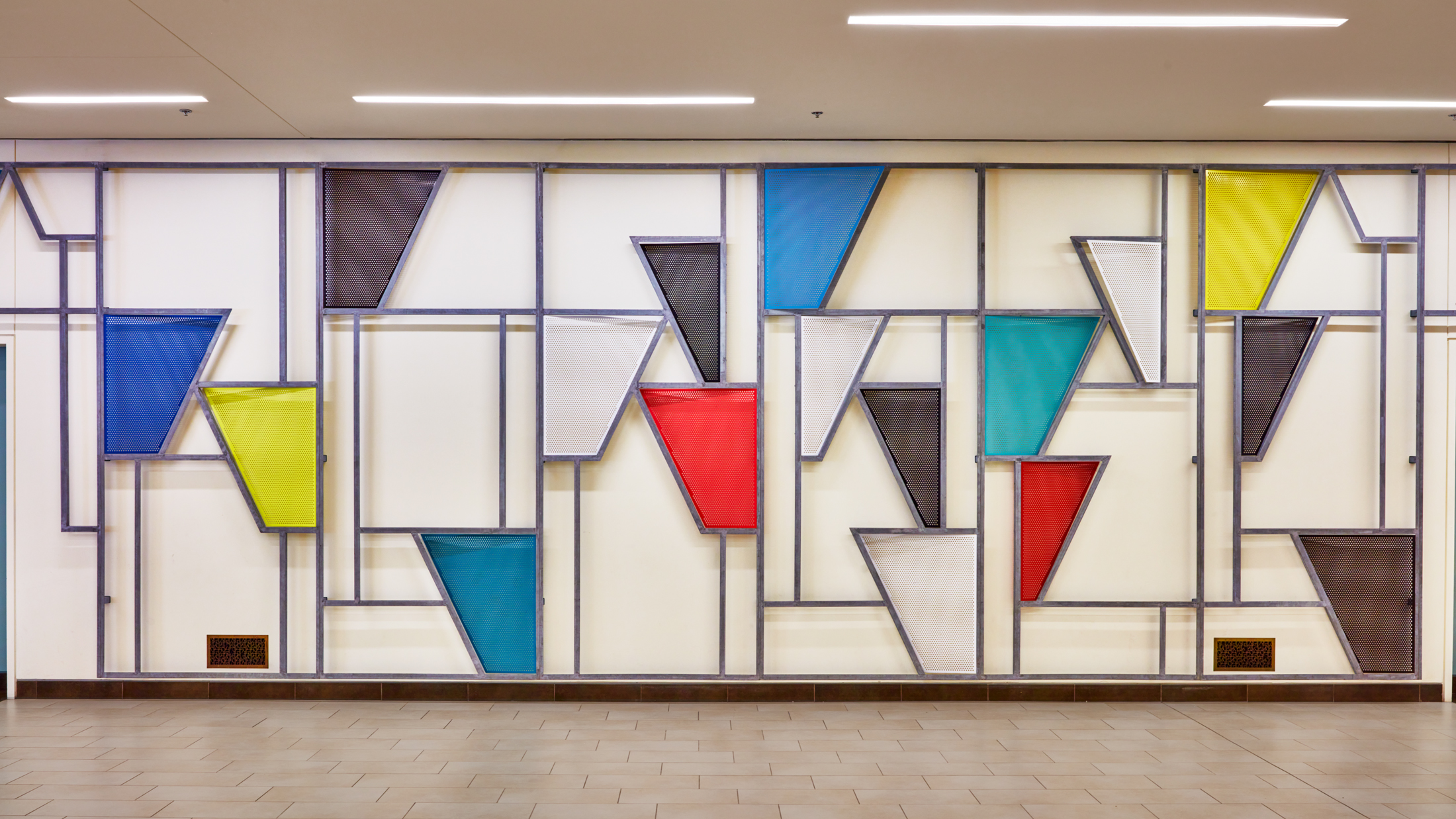 Martin Boyce's works draw on the streamlined visual language and innovative industrial fabrication of Modernist design and architecture, while revealing how modernism's iconic formal style has outlasted and, in most cases, eclipsed its utopian promises.
Doubling down on this perceived failure, Boyce stakes out an even more poetic life for those forms removed from a modernist context. His works explore processes of interpretation and communication as well as the connections between manmade and natural spaces. 
The installation Through Layers and Leaves (Closer and Closer), departs from a photograph of four concrete sculptures of trees that Boyce found in a book on French Modernist gardens. Those "trees," which have inspired several of Boyce's projects, were commissioned from Cubist sculptors Jan and Joël Martel for the 1925 Exposition des Arts Décoratifs et Industriels Modernes in Paris, which gave rise to the Art Deco style. From the Martels's designs, Boyce constructed a pattern of regular and irregular quadrilateral forms that subdivide the larger frame of a galvanized stainless steel. The frame is installed along an interior wall of the Koch Institute's lobby as if it were emerging from the original structure of the building. A number of perforated steel panels—each painted in black, white, or a bright or pale hue of a primary color—are set into some of the irregular quadrilateral forms to suggest leaves on a wall of foliage. The quadrilateral forms of the wall frame are also repeated on three brass wall grills placed low to the ground that contain text reading, "closer and closer." This work is emblematic of Boyce's interest in blurring the urban space of a public sculpture, the private realm of domestic objects, and the corporate architecture of expansive but semi-private buildings. This particular site, in which scientists conduct advanced cancer research, interested Boyce as it highlights the importance of pattern recognition and heightens one's attention to relative scale.
Martin Boyce (b. 1967) was born in Hamilton, Scotland. He studied environmental art at the Glasgow School of Art, receiving a BA in 1990 and an MFA in 1997. He represented Scotland at the 53rd Venice Biennale (2009) and his work was included in the 2007 edition of Skulptur Projekte Münster. In 2011, the same year he installed this work at MIT, he won the Turner Prize for an exhibition at the Baltic Centre for Contemporary Art in Gateshead that resembled an abandoned public park. His work is also in the public collections of the Rhode Island School of Design in Providence and the Museum of Modern Art in New York, among many other institutions. Boyce lives and works in Glasgow, Scotland.
Audio
Listen: Martin Boyce on Through Layers and Leaves (Closer and Closer)