Settee, Bench, and Balustrade, 1985
Scott Burton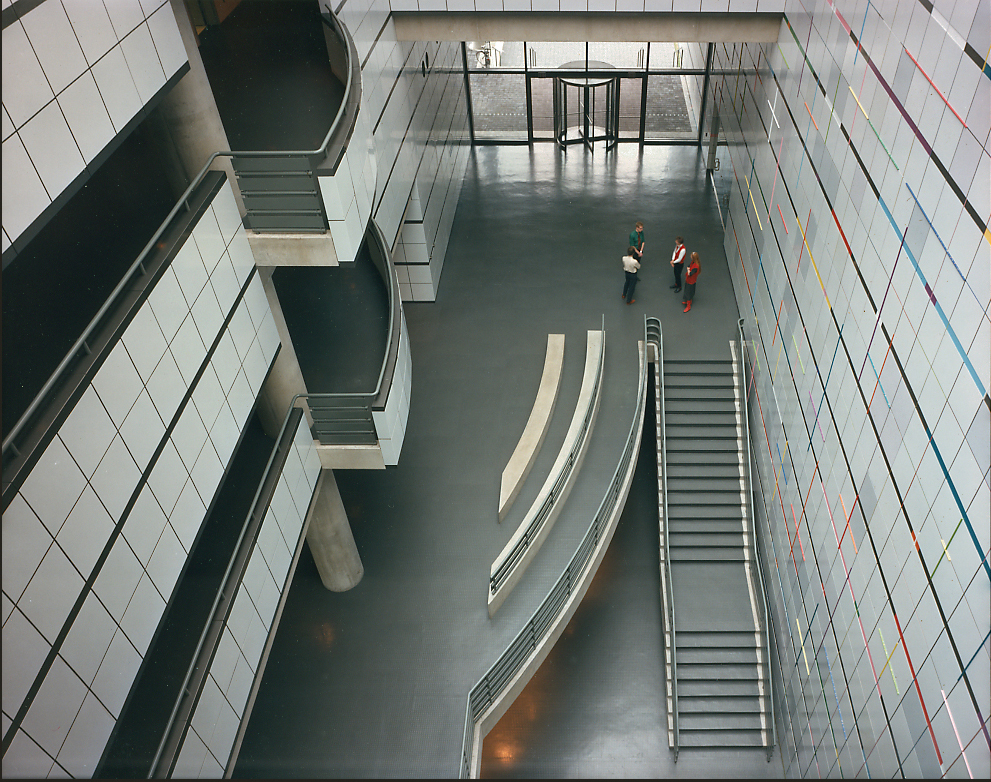 Interested in choreographing and critiquing social interactions through a queer, anti-classist lens, Burton sought to make works that were pluraslitic and democratic, functional and social, and that undermined or parodied the singular importance of the artist.
Galvanized by critic Michael Fried's famous attack on Minimalism and the genre's alleged "theatricality," Burton embraced the theatrical (and social) potential of sculpture, and the notion that certain works––particularly those masquerading as non-art––could very deliberately make a viewer self-conscious of their engagement. Many of Burton's sculptural works, including those at MIT, take the form of furniture or public seating, and, through their willfully uncertain status as art objects, raise questions of domination, subordination, visibility, passing, safety, protection, and self-abnegation. While these subjects have ongoing relevance within the spectrum of social and political power relations, they also reflect the artist's queer identity and lived experience, and, as art historian and curator David Getsy has written, speak to "the erotics that are present in the logic of Minimalism and its bodily address to (and reliance on) the viewer." 
Burton's Percent-for-Art commission for the atrium of the Wiesner Building, conceived in close collaboration with architect I.M. Pei, consists of several elements, which stem from Burton's vision for the curved cutout shape of the atrium's main level. This shape is echoed in a light gray concrete settee (a bench with a steel railing back), a shorter backless bench nested within the settee's slight curve, and the railing that wraps the cutout space and extends down the stairs to the lower level. Pei echoed the lines of these pieces in the upper balconies of the building, which follow a similar curve in the opposite direction. For the lower level of the Wiesner building, Burton created a dark, polished granite bench with a similarly rounded outer contour but a rectangular inner shape that mimics the more rigid construction of the surrounding architecture. Each of these works invite us to sit and perch, lean, or graze, and they offer support, as well as a place to rest, or people-watch. (The placement of the settee and bench, in particular, allows us to see both entrances of the building, and folds an activity of spectatorship into the work's social function.) We may become intimate with these works before we even know they are artworks--they set the stage for transgression. "There's a certain perverse pleasure," Burton noted, "in the idea that people might not even think that my sculpture is even one of the exhibits at all." 
Scott Burton (1939–1989) was born in Greensboro, Alabama, and moved with his mother to Washington, D.C., as a child. While in high school, he studied informally with the painter Leon Berkowitz, and after graduation, he learned from Hans Hofmann at his painting school in Provincetown, Massachusetts. Before turning to sculpture, performance, and public art, Scott Burton worked in the 1960s as a playwright, furniture designer, art critic, and editor. In the 1970s, he began developing performances that he considered, categorically, both performance and sculpture, and he also created what he called "pragmatic sculptures" that deliberately presented as non-art. As an art critic, Burton regularly contributed to ARTnews and Art in America, and also contributed the introduction to Harald Szeemann's pivotal 1969 Conceptual Art exhibition, "When Attitudes Become Form." Burton's sculptures are in the collections of the Los Angeles Museum of Contemporary Art, the Art Institute of Chicago, the Nasher Sculpture Center, and the Walker Art Center, among many other institutions. His major public art installations in New York City include major outdoor works at the World Financial Center (now Brookfield Place) (1989), the Equitable Center (1988), and at the fishing piers in Sheepshead Bay, Brooklyn. A retrospective of his work was held at the Baltimore Museum of Art in 1986, and in 1989, he organized an exhibition at the Museum of Modern Art repositioning the work of Constantin Brancusi. Several months later he died of AIDS complications at the age of fifty.