Sean Collier Memorial, 2015
J. Meejin Yoon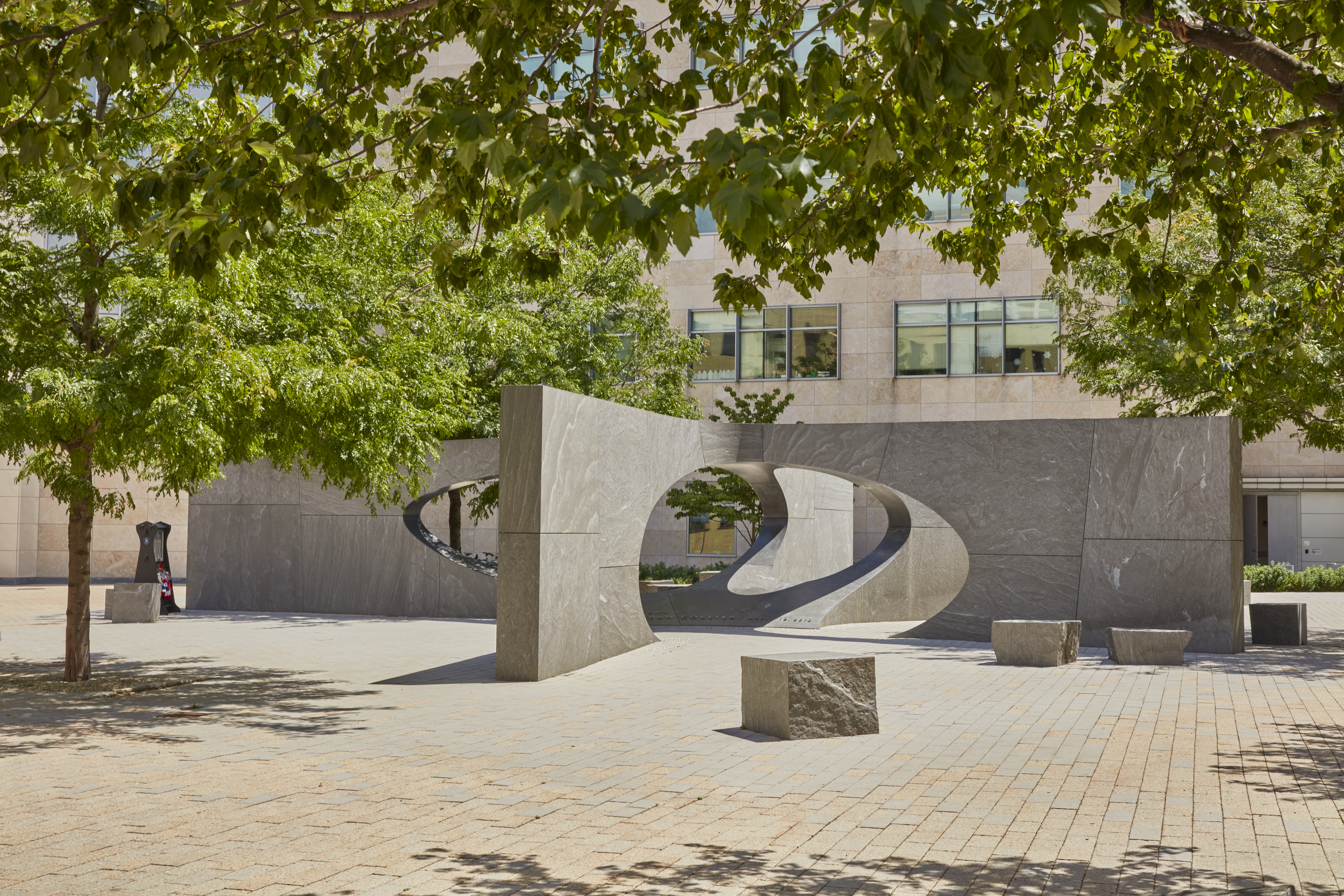 Commissioned to honor Officer Sean Collier, who was shot and killed in the line of duty on April 18th, 2013, the Sean Collier Memorial at MIT marks the site of tragedy with a timeless structure—a form that embodies the concept of strength through unity.
Designed by J. Meejin Yoon, cofounder of Höweler + Yoon Architecture, the memorial is composed of thirty-two blocks of granite that support each other to form a vaulted, ovoid space of remembrance that extends outward in five directions. The memorial's overall shape evokes a star as well as an open hand, referencing MIT's motto Mens et Manus (Mind and Hand), while the negative space at the center of the radial walls is a passage, a marker, and an aperture that reframes the site.
Yoon's design combines age-old structural techniques for spanning masonry vaults with new digital fabrication and structural computation technologies to create an unprecedented form. The structure relies on the exact fit of thirty-two stone blocks to transfer loads in pure compression from stone to stone; the tapered shapes of the individual blocks reveal the keystone geometry of the masonry arch. Though massive, the shallow vault also appears weightless overhead. This visualization of forces is consistent with MIT's ethos of openness and transparency, while the idea that all five walls are needed to achieve a stable form is symbolic of a community coalescing to commemorate a loss. The memorial offers the opportunity to remember Officer Sean Collier and honor his life and service.
MIT appreciates thoughtful offerings left in memory of and honoring Officer Sean Collier. Please note that in the interest of public safety and the appearance of the memorial, MIT will remove the items placed at the site of the memorial. Thank you for your understanding.  
J. Meejin Yoon (b. 1972) was born in Seoul, South Korea. After earning a BA in architecture from Cornell University, she earned a graduate degree in urban design at the Harvard University Graduate School of Design. In 2000, she founded MY Studio, which later became Höweler + Yoon Architecture. In 2001, she began teaching at MIT in the Department of Architecture, where she brought an emphasis on integrating technology with design. After more than a decade of teaching at MIT, she became the head of the department. In 2018, she joined Cornell University as Dean at the College of Architecture, Art, and Planning.
Through Höweler + Yoon Architecture, Yoon has designed projects including the Memorial to Enslaved Laborers at the University of Virginia; Coolidge Corner Theatre in Brookline, Massachusetts; Brown University Library in Providence, Rhode Island; and numerous other institutional and residential buildings. Her work has also been exhibited at the Museum of Modern Art, New York; Museum of Contemporary Art, Chicago; Smithsonian Cooper-Hewitt National Design Museum, New York; Vitra Design Museum, Rhein, Germany; and Venice Architecture Biennale, Italy. Yoon was elected to the American Academy of Arts and Letters in 2021.