Ring Stone, 2010
Cai Guo-Qiang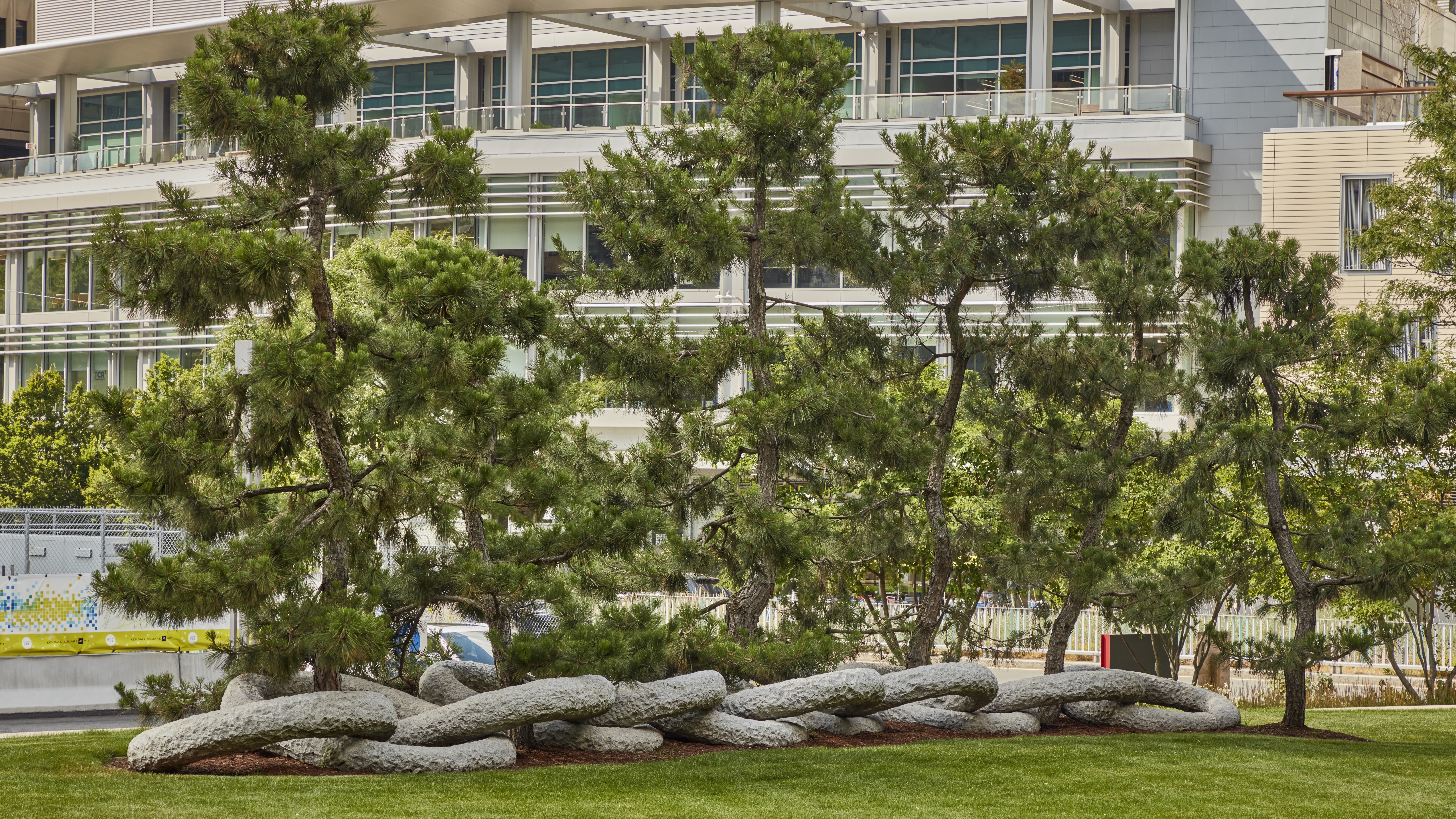 Ring Stone is composed of twelve individual but indivisible links cut from a single block of white granite weighing approximately fourteen metric tons and measuring nearly forty feet long.
The massive stone block was quarried from the caves of Zhangbanzhen, Hui An County, near the artist's hometown of Quanzhou, in southern China's Fujian Province, which is also where artisan stonemasons carved the work. Five graceful Japanese Black Pine trees, reminiscent of those depicted in traditional Chinese landscape paintings, were planted inside the rings, and another two pines grow nearby. 
Commissioned to celebrate the MIT Sloan School of Management's educational and cultural ties with China, Ring Stone is grounded in the country's culture and belief systems. The twelve links refer to the number of months in the Chinese lunar calendar and animals in the Chinese zodiac. Cai installed Ring Stone in Sloan's North Garden according to the exacting principles of feng shui, the Chinese understanding of how chi (energy) flows throughout the universe. Cai, a serious student and practitioner of feng shui, chose a location that blocks the inauspicious energy created by traffic converging from Broadway and Main Street in order to bestow beneficial chi on the school. 
Ring Stone also evokes larger contrasts that speak to the relations between people and society, nature and architecture. The links of the chain are both whole and empty, rigid and suggestive of movement, individuals and a collective, useless unless bound together. The solidity of the granite contrasts with the levity of the conifers' needles and branches. And while the stone appears timeless, the seven trees change with the seasons and mature over time. Still, the pines are resilient, retaining their green foliage even in a severe winter, representing longevity and endurance in the face of adversity. 
Cai Guo-Qiang (b. 1957) was born in Quanzhou, China. The son of an historian and a painter, he studied stage design at the Shanghai Drama School and spent nearly a decade living in Japan. Cai's sculptures and installations often reference Chinese medicine, feng shui, landscape painting, and mythology. His work has received many honors, including the Golden Lion at the 48th Venice Biennale (1999). In 2008, he was given a major retrospective exhibition at the Solomon R. Guggenheim Museum in New York, which traveled to the Guggenheim Bilbao. Elsewhere in the US, he has exhibited at the Massachusetts Museum of Contemporary Art (MASS MoCA), North Adams; the Philadelphia Museum of Art, and Brown University. He also has exhibited internationally, and his work is represented in the collections of major contemporary museums worldwide. Guo-Qiang lives and works in New York City.