Non-Object (Plane), 2010
Anish Kapoor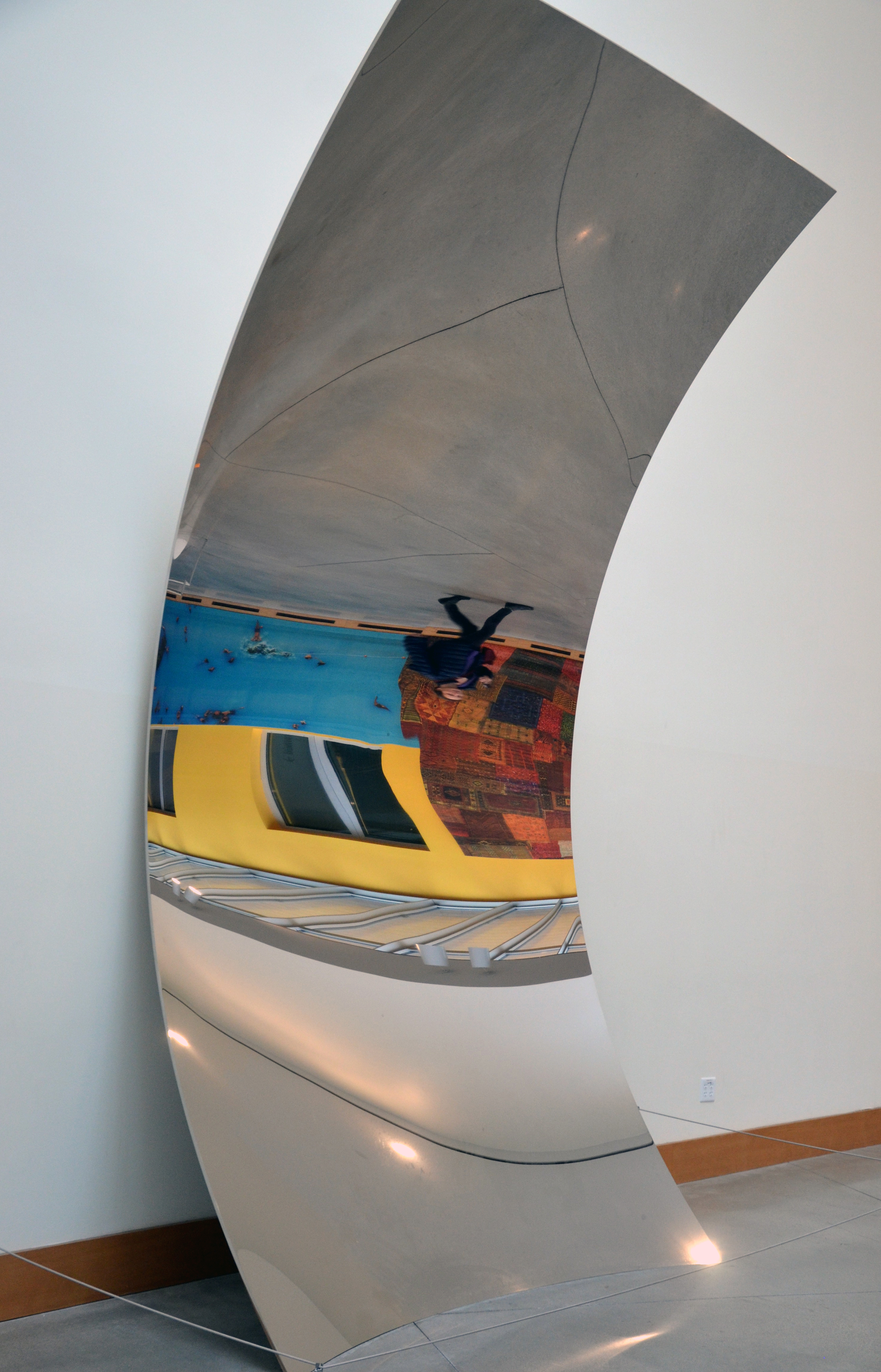 Non-Object (Plane) stands sixteen feet tall, measures more than seven feet wide, and weighs approximately 3,500 pounds.
Its monumental concave form contrasts with the work's delicate structure, a thin sheet of mirror-polished stainless steel, a material Anish Kapoor has worked with extensively. The piece also provides a striking counterpoint to the eccentric forms and metal cladding of the Stata Center's Frank Gehry architecture. 
Visitors encountering the sculpture can engage directly with the work's playful reflections of the surrounding space, animated by light from the overhead skylight and clerestory windows. Yet because of the shape of the surface, viewers have to carefully position themselves in relation to the object before seeing themselves in it, which slows down the viewing process. This piece is an example of Kapoor's interest in voids, perceptual ambiguities, and continuities between form and space. The artist is perhaps best known for his 110-ton stainless steel sculpture Cloud Gate (2004), in Chicago's Millennium Park, which was inspired by the shape of liquid mercury. "I've always felt a fascination with the modern, the industrial, the mechanical, the seemingly scientific," Kapoor has remarked, "and I use these materials in order to search for their opposite––the intimate and the sublime."
Anish Kapoor (b. 1954) was born in Mumbai, India and has lived in London since the 1970s. He received a BA at Hornsey College of Art and an MA at the Chelsea School of Art and Design. He has exhibited widely, including at the Institute of Contemporary Art, Boston; the Solomon R. Guggenheim Museum, New York; the École national supérieure des beaux-arts de Paris; and the Royal Academy of Arts, London. His work is represented in major public collections internationally and he has received numerous international awards, including the Premio Duemila at the 44th Venice Biennale (1990), and the 1991 Turner Prize.