Magic Number, 1967
Jules Olitski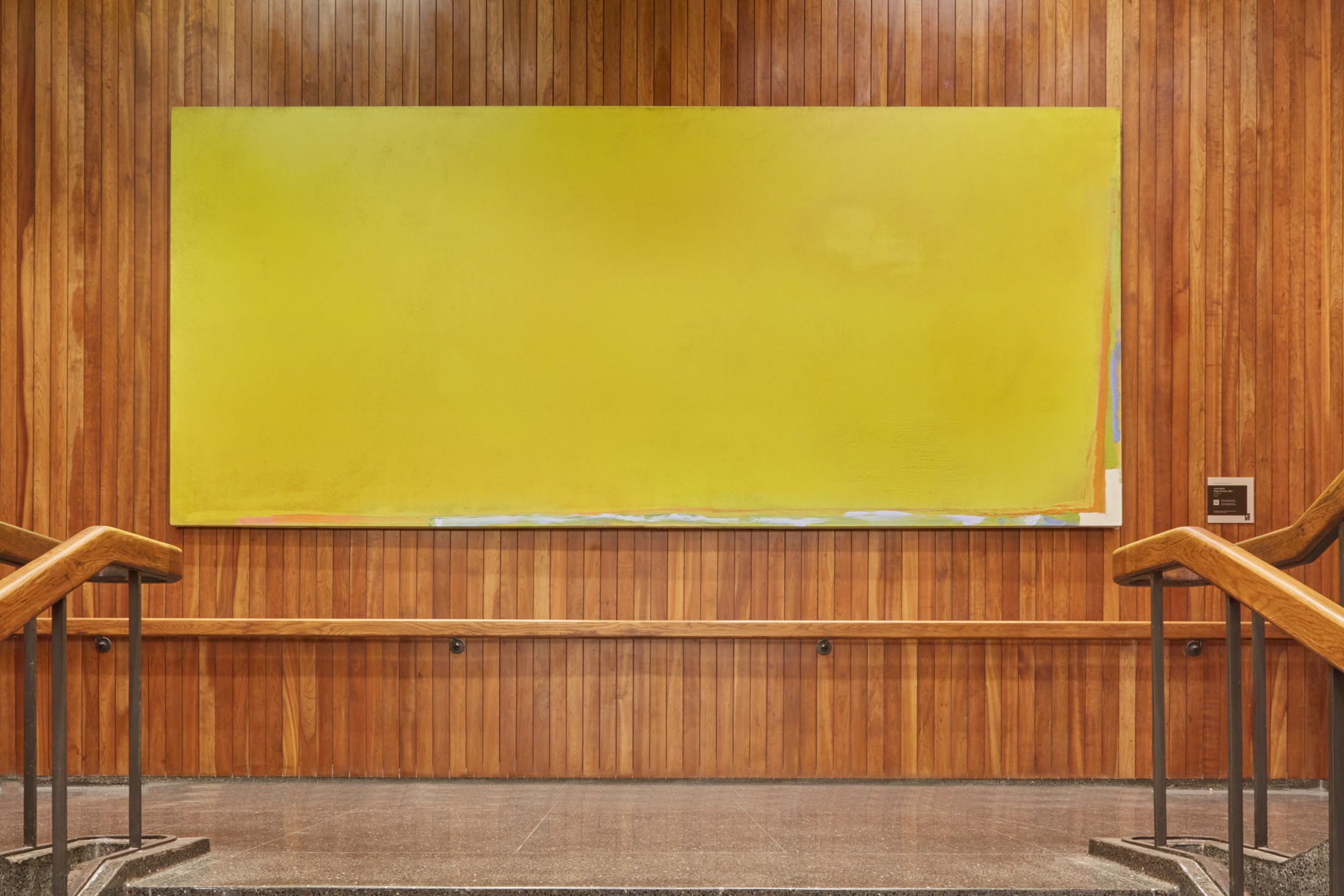 Jules Olitski's early works of the 1950s were characterized by densely encrusted surfaces built up from rough smears and round blotches of paint.
Olitski then shifted toward monochrome abstractions, staining unprimed canvas by pouring paint or applying it with broad brushes, sponges, or rollers. Soon thereafter he began to spray the paint onto the canvas, the technique for which he is most known.
By using contrasting hues, slight variations in value, and layers of sprayed color, he achieved subtle atmospheric effects, dissolving the surface of his canvas into an ambiguous mist. The structure of such paintings is not the result of drawing or planned form but attention to the edge of the canvas as well as the perceived depth and shape of the overall picture. 
Magic Number exemplifies Olitski's focus on the edges of the canvas. Impasto bands of rust-colored and periwinkle paint reiterate the painting's outline as the canvas's edge, while framing the amorphous, dissolving space of the interior. There, a yellow-gold expanse of sprayed paint appears both flat and undulating; what appears to be a uniform field of color is in fact the product of fine layers of shimmering paint. This play with surface and form becomes more complicated at bottom right, where a geometric white shape simultaneously defines the corner of the painting, serving as a visual anchor, and creates the optical illusion of a disappearing edge, as if this were a shaped canvas. This effect may be the type of visual "magic" referenced in the work's title. 
Jules Olitski (1922–2007) was born in Snovsk, Russia (now Ukraine), shortly after the political execution of his father. The following year, his remaining family immigrated to New York. Olitski studied at the National Academy of Design while attending evening classes in sculpture at the Beaux-Arts Institute. After serving in World War II, he studied in Paris from 1949 to 1951, working in the studio of Ossip Zadkine and at the Académie de la Grande Chaumière. Following his first solo exhibition in Paris, Olitski returned to New York and studied art education at New York University. Olitski was head of the art department at Bennington College,Vermont from 1963 to 1967. He had more than one hundred solo exhibitions, and his 1969 show at the Metropolitan Museum of Art marked the institution's first for a living American artist. His work is in the collections of the Museum of Fine Arts, Boston; Dallas Museum of Fine Arts; Metropolitan Museum of Art, New York; Museum of Modern Art, New York; National Gallery of Canada; and Whitney Museum of American Art, New York. Olitski died in New York in 2007.