Loohooloo, 1994
Frank Stella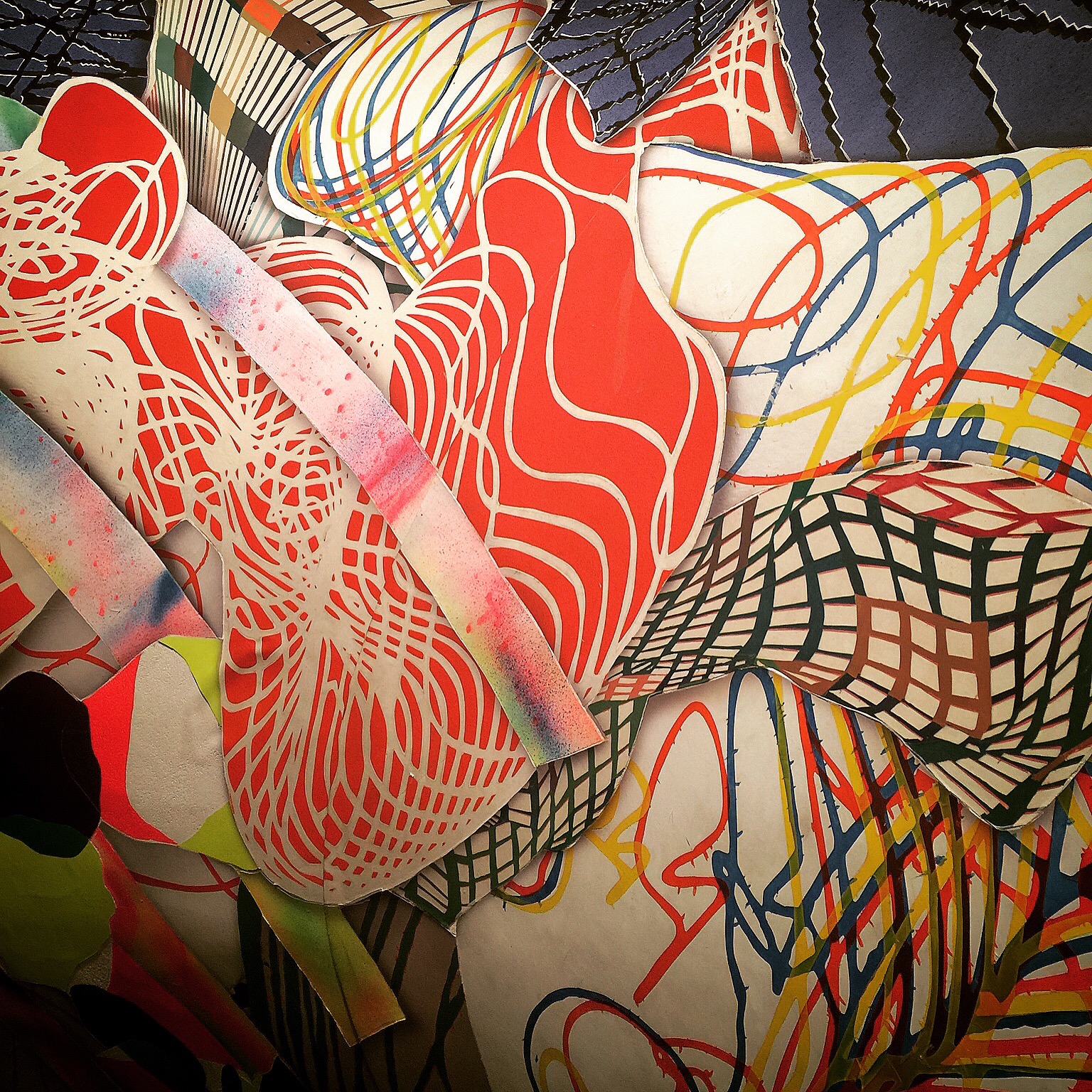 Frank Stella came to prominence in the late 1960s as a painter of hard-edged geometric paintings and austere black paintings whose subject was the repetitive process of painting itself.
His work was rigorously formal and Minimalist, insisting on the flatness of the canvas surface. He refused to admit references to the figure or expressive gestures into his painting, and once said of his work, "What you see is what you see."
In the 1970s, Stella's work took a new direction: his paintings became three-dimensional reliefs with exuberant forms and colors. (An example of this period is his 1988 Heads or Tails, installed in the Tang Center for Management Education at MIT.) In Loohooloo Stella moved further into three dimensions, using the entire architectural space as his canvas. The work wraps around the walls of the Wolk Gallery's adjacent conference room,  which was specially constructed to the work's dimensions—ten feet tall and nearly one hundred feet wide—during the renovation of the School of Architecture and Planning's department building in 1995. The title refers to a fictitious locale in Herman Melville's 1847 novel Omoo, in which fishermen come to the reefs of Loohooloo to spear fish by torchlight, throwing their weapons into the foaming waves. In Stella's response to this narrative, sinuous lines and energetic patterns suggest crashing waves, wriggling bodies of fish, and trails of bubbles that might accompany the spear as it plunges into the water. Still, these forms remain abstract and were in fact derived from photographs the artist took of smoke rings he blew in his studio, which he then manipulated on a computer. 
Frank Stella (b. 1936) was born in Malden, Massachusetts, as the eldest son of Italian-American immigrants. He graduated from Princeton University, New Jersey, in 1958 with a BA in history. Although the university did not offer a degree in studio art, Stella found guidance there from painter Stephen Greene and art historian William Seitz. After moving to New York in the late 1950s, Stella rented a former jeweler's shop and found employment as a house painter. Influenced by the paintings of postwar Abstract Expressionists such as Barnett Newman, Willem de Kooning, and Franz Kline, he began using ordinary house paint on canvas to create symmetrical black shapes delineated by pinstripes. These paintings, known as the "Black Paintings," were shown in Stella's first important group show, "Sixteen Americans" at the Museum of Modern Art, and are often credited with paving the way for the Minimalist art movement of the 1960s. Stella's next body of paintings in aluminum and copper paint involved shaped canvases, often in alphabetic forms. These later developed into more elaborate designs with a wider range of colors.
Stella has produced a number of public artworks and architectural commissions. His work is in the collections of most major art institutions across the globe, including the Museum of Fine Arts, Boston; Art Institute of Chicago; Whitney Museum of American Art, New York; Museum of Modern Art, New York; Hirshhorn Museum and Sculpture Garden, Washington D.C.; San Francisco Museum of Modern Art; Kunstmuseum Basel; Peggy Guggenheim Collection, Venice; and Tate, London. He was awarded the National Medal of Arts in 2009. Stella lives and works in New York City.  
Audio
Listen: Patricia Fuller on Frank Stella's Loohooloo