Games of Chance and Skill, 2002
Matthew Ritchie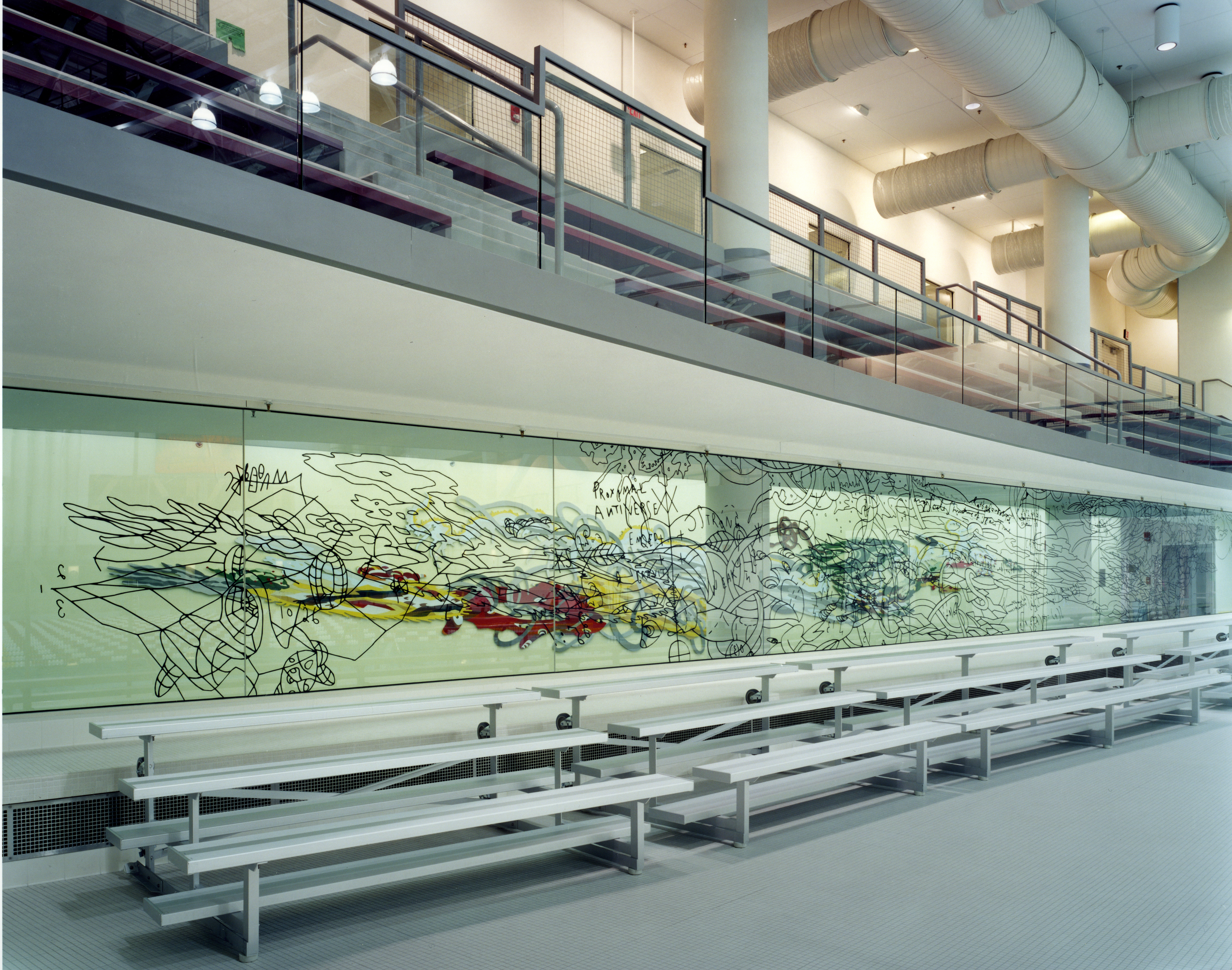 Matthew Ritchie's three-part installation at MIT, Games of Chance and Skill, occupies the wall, window, and ceiling of the eighty-foot corridor overlooking the Zesiger Center's Olympic swimming pool.
Although the enamel mural, sand-blasted and painted glass panels, and translucent ceiling tiles are decorated with distinct abstract imagery—from diagrammatic black-and-white line drawings to creature-like illustrations dominated by primary colors—the transparency of the window allows some of these elements to combine into a single dynamic picture when seen from the pool. That viewing position also reinforces the imagery's reference to the movement of bodies through water.
This work also functions as part of a story developed elsewhere in Ritchie's oeuvre. This section depicts seven of the forty-nine characters that inhabit the artist's works, specifically those that represent seven critical stages in the emergence of the universe, from the Big Bang to the evolution of life and human consciousness. Underlying the entire structure is an abstract form that the artist calls The Swimmer, which for him represents the space-time continuum, the backdrop for the creation of the universe. While such themes may be immense, they are represented in a playful graphic mode that unfolds like a comic book as viewers walk along the hall.
Matthew Ritchie (b. 1964) was born in London. After receiving a BFA from Camberwell School of Art, London, he moved to the United States in 1988 and attended Boston University. Ritchie's large-scale wall and floor installations and digital artist's books are all components of an ongoing project to find visual metaphors for the creation of the universe and the history of time. His work follows a group of symbolic characters that play out their stories in a structured world of colors, forms, and rule-bound interactions. Solo exhibitions of Ritchie's work have been held at the Dallas Museum of Art; Museum of Contemporary Art, Miami; Contemporary Arts Museum Houston; and Massachusetts Museum of Contemporary Art, among other venues. He has participated in group shows at institutions including the Whitney Museum of American Art, New York; Museum of Modern Art, New York; San Francisco Museum of Modern Art; and Indianapolis Museum of Art. Ritchie lives and works in New York. 
Audio
Listen: Matthew Ritchie on Games of Chance and Skill