Floor, 1996
Jackie Ferrara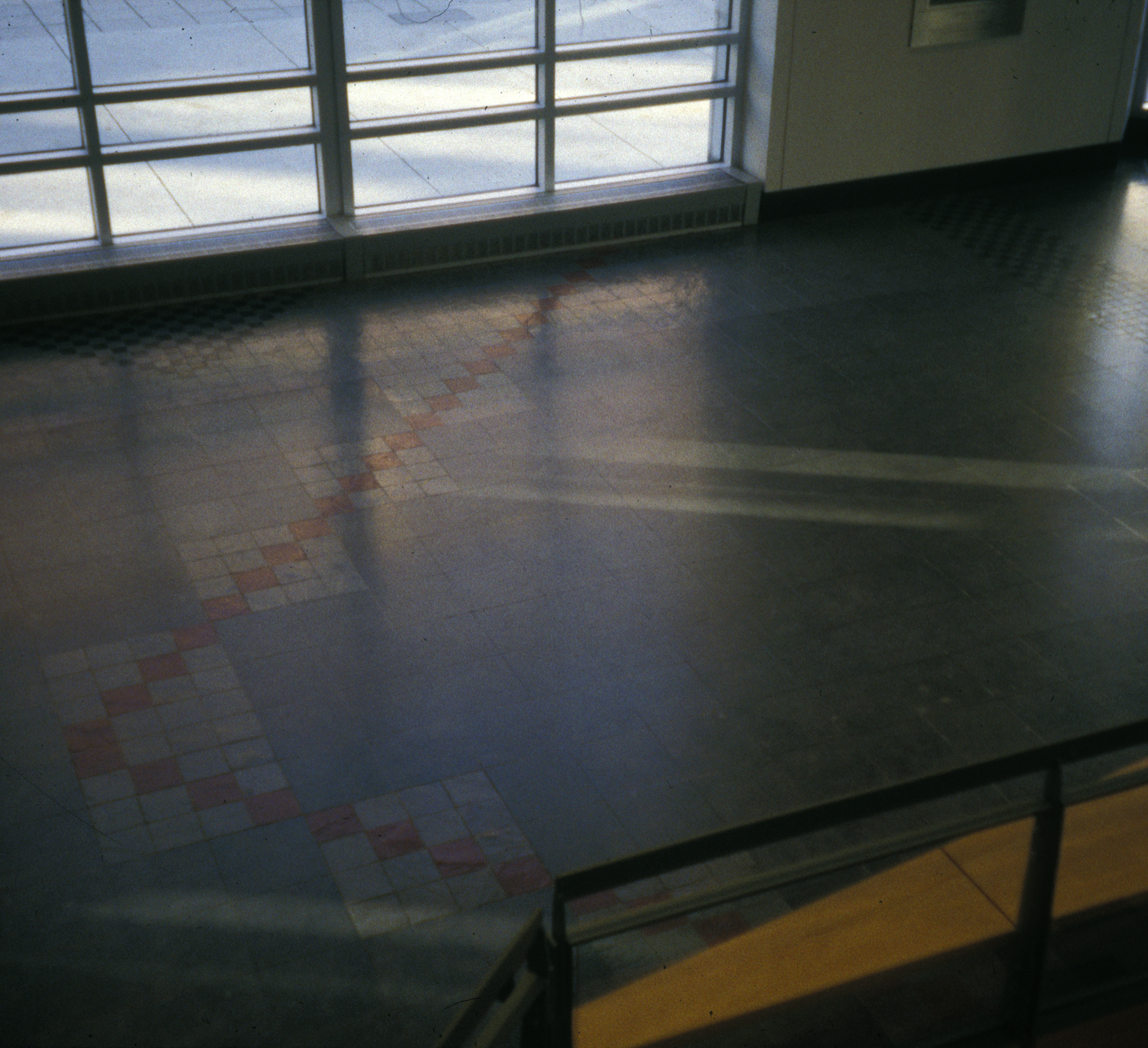 Sculptor Jackie Ferrara is known for her projects for civic spaces—courtyards, interiors, plazas, and garden landscapes—characterized by spare, structural, and geometric uses of wood and stone, evocative of ancient and non-Western architecture.
Ferrara's Floor is composed of floor tiles made of greenstone and slate that create patterns across the ground floor atrium of the Tang Center and continue upstairs to the balcony and corridor. These designs partly outline a series of rectangles that fan out from an imagined shared vertex on the sidewalk. The implied continuity between interior and exterior may allude to the visual permeability of the lobby, with its floor-to-ceiling windows, while the rotational thrust of the shapes echoes the paths of movement through the lobby's revolving door. These designs also echo the strong diagonals of the architect-designed seating and furniture in the sunken area of the lobby.
Jackie Ferrara (b. 1929) was born in Detroit, Michigan and moved to New York in 1952. There she took classes in pottery and leatherwork and became involved with dance and theater through a job at the Henry Street Settlement. Ferrara attended performances at the Judson Church and Judson Gallery, and was a performer in two of Claes Oldenberg's Happenings. During this period, Ferrara began making wood sculptures informed by her earlier pieces of domestic furniture, such as cupboards and shelves. These wooden forms developed into larger, often outdoor structures made with stacked horizontal slats of pine, poplar, and birch, for which she became known in the 1970s. Their forms refer to ziggurats, pyramids, doorways, and courtyards. In 1989, Ferrara completed her first public commission in a collaboration with architect William Pederson for Hamm Plaza in downtown St. Paul, Minnesota. Since then, she has completed numerous works for public spaces. Other public art commissions that make use of flooring, paving, or wall mosaics include the Pittsburgh Airport, the Seattle Convention Center, the Tisch Library Rooftop at Tufts University, and the platform walls of the shuttle train between Grand Central and Times Square. Ferrara lives and works in New York City.