The End of Signature, 2021 and 2022
Agnieszka Kurant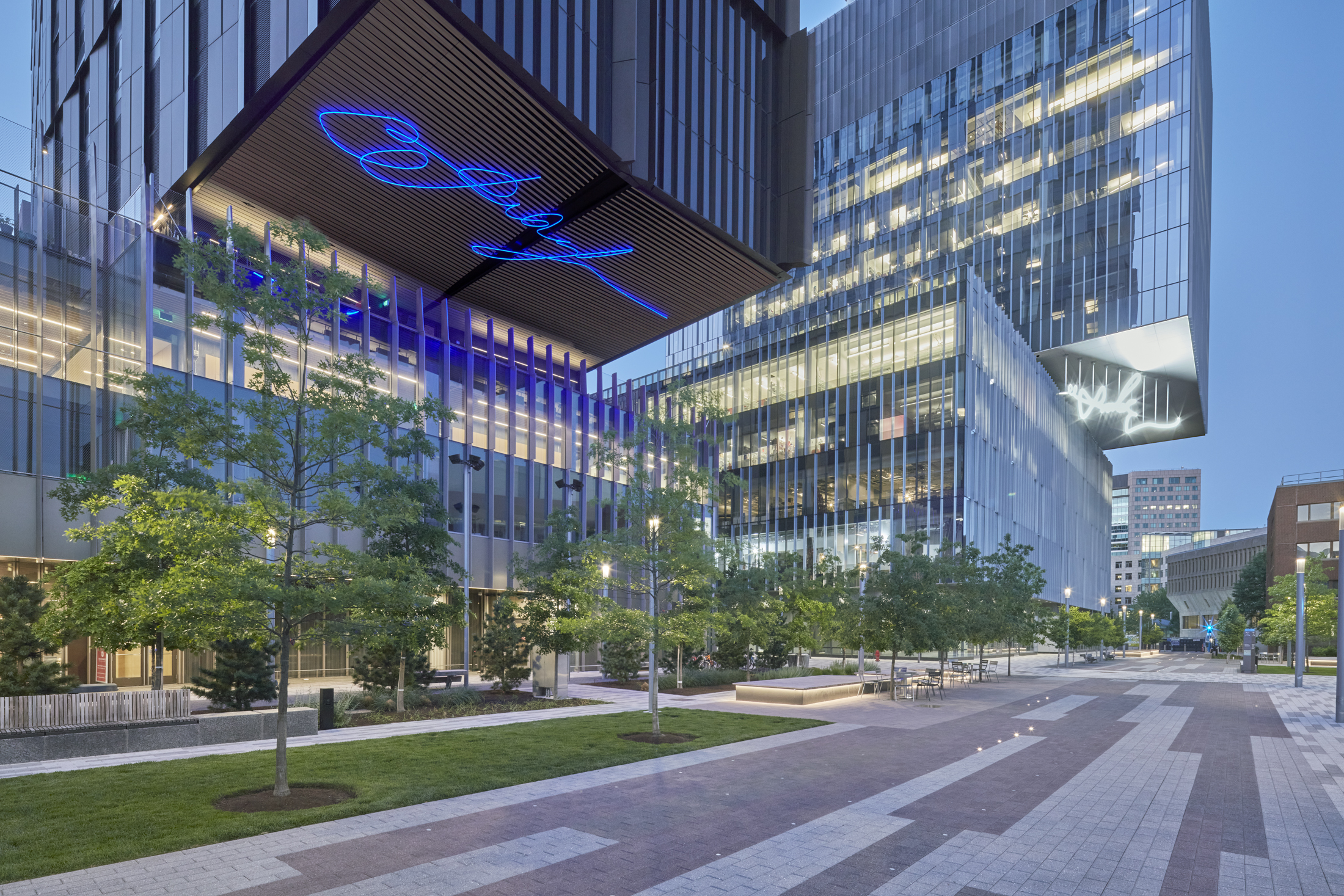 To make The End of Signature, Agnieszka Kurant used artificial intelligence to create two different collective signatures realized as monumental light sculptures adorning the facades of two new buildings in Kendall Square.
The work consists of one animated LED sculpture that appears to sign and re-sign the rear façade of 238 Main Street, which aggregates signatures of thousands of scientists and other academics working at MIT in the past and currently, and one large-scale neon signature on the plaza side of Building E37's cantilevered façade, made using signatures of Cambridge residents. The artist conceived of each of these as a joint signature, and worked with a team of collaborators to create these two unconventional portraits using a machine learning system (called a GAN, a generative adversarial machine learning approach). 
Kurant developed these iterations of The End of Signature in collaboration with three doctoral students in MIT's Computer Science and Artificial Intelligence Lab (CSAIL)— Katie Lewis, Divya Shanmugam, and Jose Javier Gonzalez Ortiz—as well as their advisor, Professor John Guttag. Together they designed a neural network that was trained with a dataset of real signatures, which Kurant collected from scientists and other academics working in the building, as well as residents of the area. These individual signatures were then scanned and transformed by the algorithm into an "averaged" signature, which looks less like something signed by a human hand and more like an abstract, illegible scrawl that is trying to make sense of signatures that often lack clear alphabetical characters to begin with. As critic Christy Lange has written, "The hovering signatures in The End of Signature, similarly, make a kind of immaterial value visible—not only that of the artwork, but of the cognitive labor going on at MIT and the collective contributions of the wider community that supports it." 
While The End of Signature establishes a novel way of visualizing the identity of the Cambridge and MIT communities, it also alludes to larger cultural shifts as the individual signature becomes a vestigial convention, often reduced to a touchpad scribble or digital stamp. "[The End of Signature] is about the end of handwriting," Kurant explains, "and how that expired at the same time as the idea of a singular author." Kurant also points out how in the scientific community most discoveries are done by teams: "The idea of individual 'genius' in science as in culture is nonsensical." What's more, she adds, "people get written out of discourses of science." Christy Lange elaborated, "The sculpture at 238 Main Street—which amalgamates signatures of past and current scientists, students, interns and academics at the Institute—points toward correcting that history. The second sculpture [on E37] is based on signatures of people who live in the Kendall Square and East Cambridge area." In this regard, The End of Signature acknowledges the presence of two distinct but entangled publics—MIT and Cambridge—while posing important questions about authorship, identity, and subjectivity in the twenty-first century. The work also derives from methods of activism in the foundational act of collecting signatures, just as one would do to demonstrate support for a cause. For the artist, this gesture captures what she refers to as the "​phantom, dormant capital that can be aggregated when people get together for a social movement or a common cause."
Agnieszka Kurant (b. 1978) was born in Łódź, Poland and lives and works in New York City. Kurant's work in systems, sculpture, and film has been exhibited widely in the U.S. and Europe. She operates at the intersection of art, science, philosophy and technology, and questions the epistemological assumptions that are fundamental to those intellectual and institutional territories.
Her work has been presented in solo exhibitions at the Muzeum Sztuki, Łódź, Poland (2021), Castello di Rivoli Museum of Contemporary Art, Italy (2021–22); Savannah College of Art and Design Museum of Art, Georgia (2017–18); SculptureCenter, New York (2013–14) and in group exhibitions at Museum of Modern Art, New York (2020); De Young Museum, San Francisco, California (2020); Museum of Contemporary Art Toronto, Canada (2019), Guggenheim Bilbao, Spain (2017), The Kitchen, New York (2016); Palais de Tokyo, Paris (2014); Moderna Museet Malmö, Sweden (2014); and Witte de With, Rotterdam, Netherlands (2011). Kurant co-represented Poland at the 12th Venice Architecture Biennale (2010, with Aleksandra Wasilkowska) and has also been included in the 16th Istanbul Biennial (2019), 22nd Milano Triennial (2019), Cleveland Biennial (2018), and Performa Biennial (2013). In 2015 she was commissioned to realize a project on the façade of the Solomon R. Guggenheim Museum, New York.
Her recent fellowships and residencies include the Berggruen Institute's Transformations of the Human program (2020–21) and the Ida Ely Rubin Artist in Residence at the MIT's Center for Art, Science & Technology (CAST), where she collaborated with the Computer Science and Artificial Intelligence Laboratory (CSAIL) and MIT InfoLab (2016–18). She also is the recipient of the 2020 LACMA Art + Technology Lab Grant, the 2019 Frontier Art Prize by VIA Art Fund and The World Frontiers Forum and the Google Artists and Machine Intelligence Grant.