Cycladic Sentinel, 2000
Dimitri Hadzi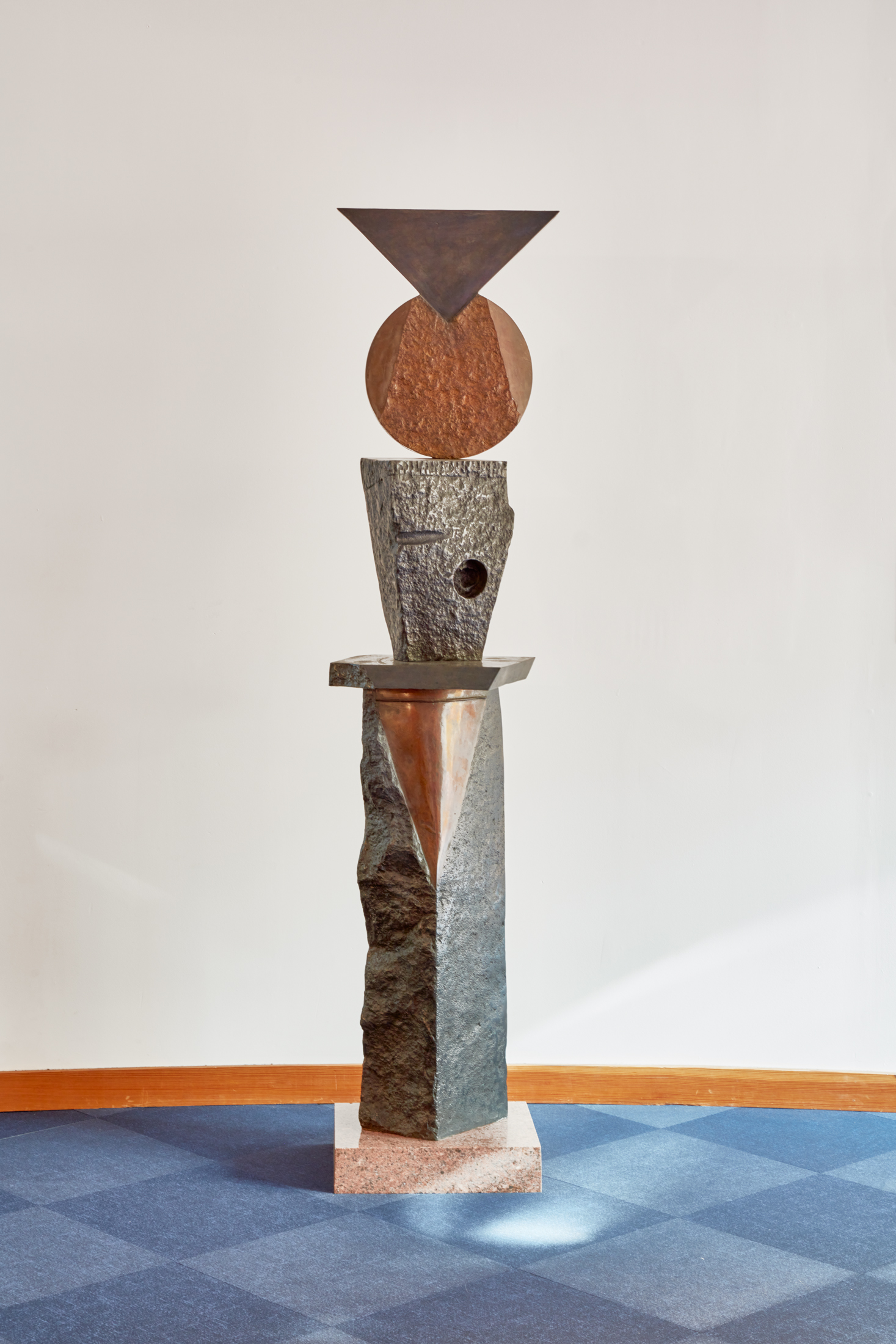 Dmitri Hadzi's interest in Greek antiquity is evident in the title and silhouette of Cycladic Sentinel. Cycladic figurines were marble statues produced on the rocky Aegean islands in the third and second millennium BCE.
Hadzi's version retains some bodily proportions and features of those ancient statuettes: a round head with polished edges suggesting ears sits on a tapered torso, and a horizontal element (possibly signifying hips) tops a smooth triangle demarcating the groin. But the artist also abstracts the already geometric anthropomorphism. The oval shape of a face is rendered as a solar disc, and the wedge-like form of a nose, enlarged into an almost equilateral triangle, now crowns the head. The legs are combined into a single column, which, along with the sculpture's towering height, reinforces the idea that the piece is standing guard. Hadzi has also differentiated his work through its materiality. While Cycladic art tended to be made of a single type of a uniformly colored stone carved into clean, polished forms, Cycladic Sentinel is made of metal and exhibits a range of textures, which further distinguish the two hues of bronze. At seven feet tall, this sculpture is also larger than most of the historic figures, making it appear less intimate or functional, and more architectural. 
Dimitri Hadzi (1921–2006) was born to Greek parents in New York, where he graduated from Cooper Union and worked at the Brooklyn Museum Art School before moving to Athens and then to Rome in the 1950s. After returning to the United States, Hadzi became a professor at Harvard University, where he taught from 1975 to 1989. In addition to a Fulbright scholarship, Hadzi received a Louis Comfort Tiffany award, a John Simon Guggenheim Fellowship, and an honorary Master of Arts degree from Harvard University. His work was shown in solo exhibitions at the Fogg Art Museum and the Carpenter Center for the Visual Arts at Harvard University; The Phillips Collection in Washington, D.C.; the Hopkins Center for the Arts at Dartmouth College; and numerous commercial galleries. He participated in group exhibitions at the Museum of Modern Art and the Solomon R. Guggenheim Museum in New York; Musée Rodin in Paris; and the Venice Biennale (1956, 1958, and 1962). Hadzi's work can also be found in many public collections, including the Whitney Museum, New York; the Hirshhorn Museum, Washington, D.C.; and the Museum of Fine Arts, Boston.