Bring me the sunset in a cup, 2023
Spencer Finch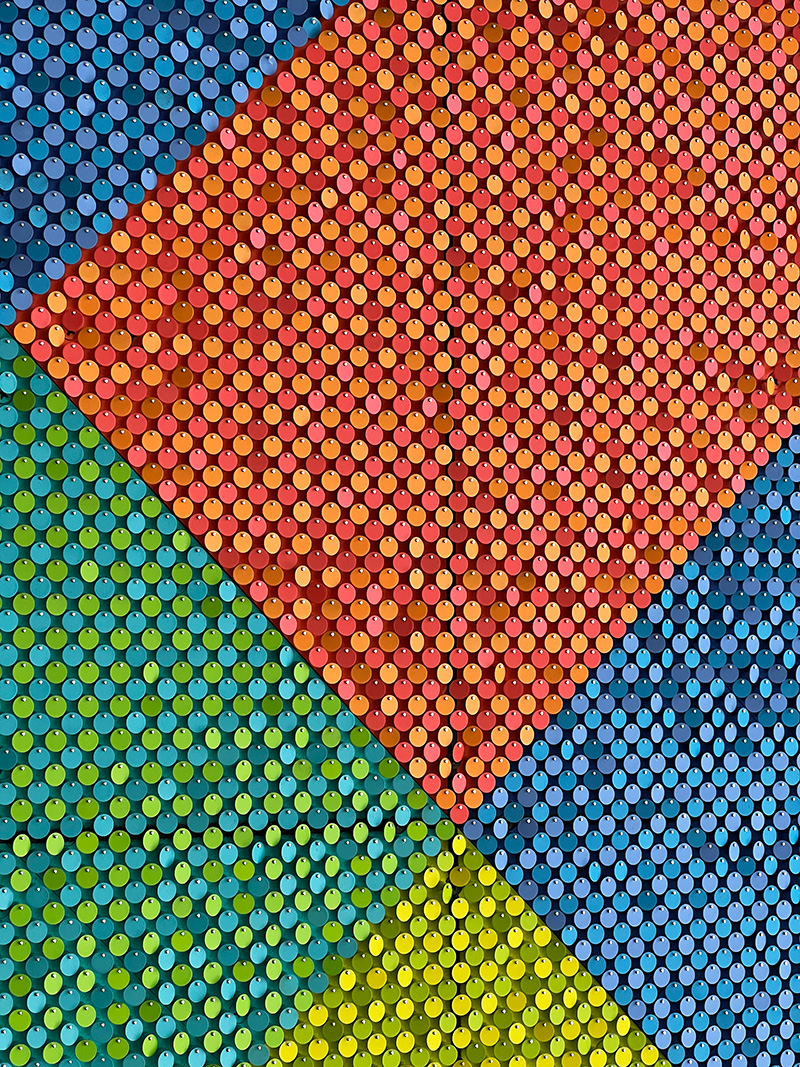 Drawing on the artist's decades-long explorations of light and color, Spencer Finch's Percent-for-Art commission for the MIT Stephen A. Schwarzman College of Computing is a shimmering meditation on computing and human perception. 
Finch's work is composed in dialogue with a computational logic: binaries—made visible here through the competing pairs of colors that compose each panel—are both foregrounded and destabilized. Viewed from a distance, the work appears as a geometric tessellation of colored panels that flank the building's staircase. As the viewer approaches, the colors multiply as the small discs that compose the fields of color in the panels become visible. Finch created each panel's "color" by pairing two tiny discs of different colors that alternate and repeat. The discs, which are often used in simple storefront signage, tremble faintly with the movement of air through the space.
Bring me the sunset in a cup emerges from Finch's repeated experiments with creating "unnamable" and "in-between" colors. With this work, as well as many past pieces, the artist draws inspiration from Ludwig Wittgenstein's Remarks on Colour (1950), in which the philosopher proposes impossible colors like "reddish-green" and "transparent white" as experiments in language and thought. For Finch, as well as his Impressionist, Pointillist, and Light and Space predecessors, color allows a complex exploration of subjectivity and phenomenology. It is ungraspable in essence yet remains a fundamental feature of visual perception and memory.
Many of Finch's past works stage how the subjective nature of color intersects with specificities of time, place, and history. He has employed colors drawn from the ceiling of Sigmund Freud's house in Vienna (Ceiling [above Freud's couch, noon effect, 19 Berggasse, Vienna, Austria, February 18, 1994] [1994]), Emily Dickinson's garden (Winter Light, Summer Light [Emily Dickinson's Garden] [2008]), and even his own dreams (102 Colors from My Dreams [2002]). Another example is the monumental work Trying to Remember the Color of the Sky on That September Morning (2014)—on display at the National September 11 Memorial and Museum in New York—which is a mosaic of 2,983 hand-painted watercolors, each in a different shade of blue.
In his site-specific commission for MIT, Finch contrasts color––and its intangible, subjective qualities––with formal concepts from the history of computing. The composition is based on Wang Tiles, a mathematical puzzle proposed in 1961 by mathematician Hao Wang that asks whether a given set of square "tiles," each divided into colored sections, can fill an endless plane without creating visual breaks. The Tiles must be placed so that their colored edges match adjacent Tiles, without rotating or reflecting them. Using only this simple, rule-based logic, sets of Wang Tiles can be carefully designed so they have the remarkable ability to perform mathematical calculations. Furthermore, Wang Tiles are known to be "Turing complete," meaning they can be used to compute anything that a general-purpose computer can. Give me the sunset in a cup draws on these early experiments in procedural generation, gesturing toward infinity. Its surface, however, flickers and shifts ever so slightly, introducing doubt and instability into its formal code.
Spencer Finch (b. 1962) was born in New Haven, CT and lives and works in Brooklyn, NY. He is an American artist whose works explore color, subjectivity, and perception in a variety of media—ranging from large-scale public projects to light installations and watercolors. His material investigations are driven by what he has described as "the impossible desire to see oneself seeing." Finch's major public projects include A Cloud Index (2022), a site-specific commission for Paddington Station in London;b Orion (2020), a light work for San Francisco International Airport; and Trying to Remember the Color of the Sky on That September Morning (2014), a commission for the 9/11 Memorial in New York. His work has been exhibited throughout the world and is in the permanent collections of institutions including the Whitney Museum of American Art, New York; the Solomon R. Guggenheim Museum, New York; the Hirschhorn Museum and Sculpture Garden, Washington, DC; Museum für Moderne Kunst, Frankfurt; and Los Angeles County Museum of Art.
About the Commission
Finch was selected for the commission by 2020 Percent-for-Art committee members, including: ​​Jon Alvarez, Director, MIT Office of Campus Planning; Richard Amster, Director, MIT Campus Construction; Bonnie Berger, Simons Professor, MIT Mathematics; Emma Corbalan, Senior Project Manager, MIT Campus Construction; Paul C. Ha, Director, MIT List Visual Arts Center; Nicolas Hadjiconstantinou, Professor of Mechanical Engineering and Co-Director of Center for Computational Engineering, MIT Mechanical Engineering; Daniel Huttenlocher, Dean, MIT Schwarzman College of Computing; Colin Koop, Design Partner, Skidmore, Owings & Merrill; Eileen Ng, Assistant Dean for Administration, MIT Schwarzman College of Computing; Sonia Richards, Director, MIT Capital Projects; Krystyn Van Vliet, Associate Provost and Associate Vice President for Research, MIT Office of the Provost; Travis Wanat, Senior Project Manager, MIT Campus Construction.