Blue Poles, 2004
Sarah Sze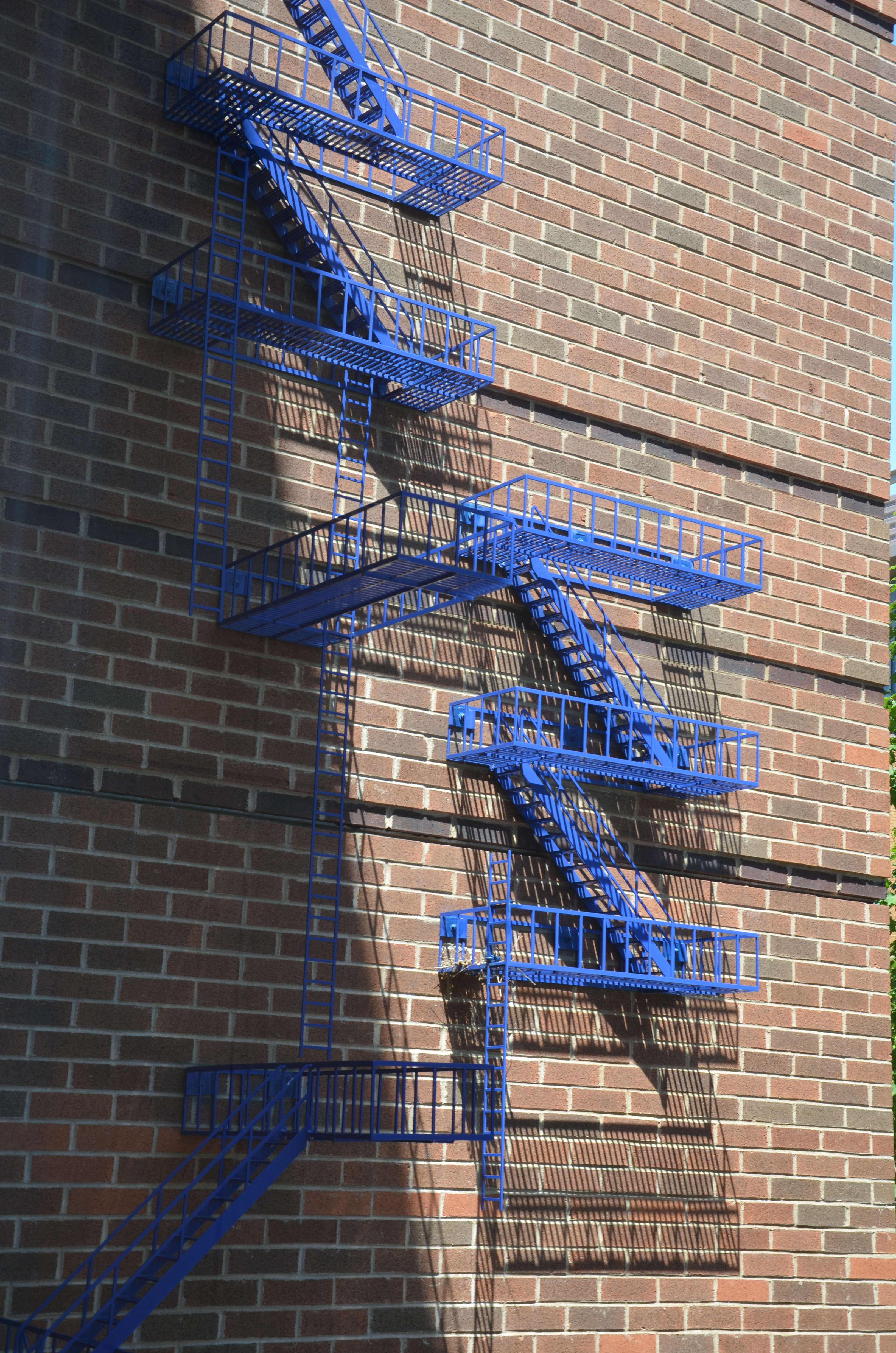 Sarah Sze's works are typically site-specific sculptures composed of vast collections of prefabricated and vernacular materials.
These sprawling, provocative installations effectively infiltrate and overtake the spaces they inhabit. During a residency at the former studio of American sculptor Alexander Calder, who is known for his mobiles (and stabiles, such as La Grande Voile [The Big Sail] in McDermott Court at MIT), Sze developed the idea of creating a sculpture out of multiple ladder forms, reminiscent of scaffolding or fire escapes. The resulting work, Blue Poles, scales the interior and exterior of the six-story Sidney-Pacific Graduate Residence, starting at the entrance canopy.
Explaining Sze's intentions, art critic Eleanor Heartney writes, "This work was inspired in part by the fire escapes that she observed stretching across the fronts and backs of tenement apartment buildings [in her hometown of Boston]. Providing both a means for escape in case of disaster and a place to hang out that is simultaneously inside and outside, fire escapes add a human dimension to the urban landscape. Newer, more modern buildings, like those on the MIT campus, eschew this old-fashioned safety system for more invisible means of escape. Thus, by fusing this jumble of ladders onto a sleek glass facade, Sze joins two apparently antithetical architectural styles. In the process, she offers a subtle critique of the dehumanizing quality of much contemporary architecture and design." While the work is geometric and structural, it is also freeform and absurd, with extraneous platforms and a zigzag route. Alluding to that gestural movement, and emphasizing its other formal qualities, Sze titled the sculpture after Jackson Pollock's well-known Abstract Expressionist painting Blue Poles (1952), in which a series of slanting upright navy forms recall ladders, trees, masts, or gashes against a reddish-brown field of gauzy marks.
Sarah Sze (b. 1969) was born in Boston, Massachusetts and received her BA from Yale University in 1991 and her MFA from the School of Visual Arts in 1997. Soon after her early exhibitions at the SoHo Annual in 1996 and at PS1 Contemporary Art Center in 1998, Sze garnered significant acclaim and was included in the Whitney Biennial in 2000. A year later, her first large-scale outdoor piece was installed at the Bard Center for Curatorial Studies. Since then, Sze has presented major works at the Solomon R. Guggenheim Museum, New York; Tate Modern, London; Haus der Kunst, Munich; Walker Art Center, Minneapolis; and Museum of Fine Arts, Boston, among many other institutions.
In 2013, Sze represented the United States at the 55th Venice Biennale. She has received numerous awards and honors, including a MacArthur Fellowship, Louis Comfort Tiffany Foundation Biennial Competition Award, and Rema Hort Mann Foundation Emerging Artist Award. Sze lives and works in New York.