Alchemist, 2010
Jaume Plensa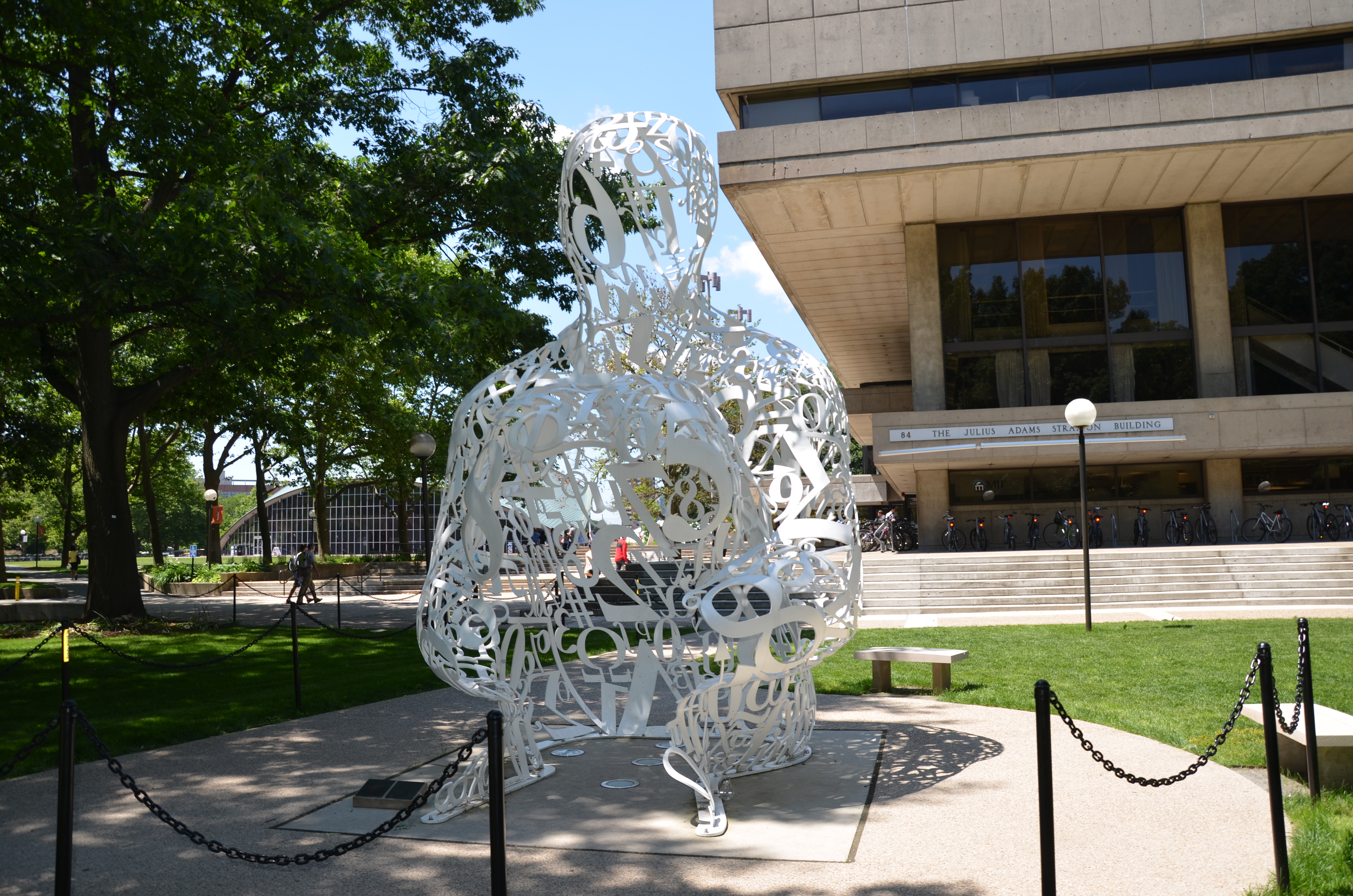 Jaume Plensa's sculptures often deliberately distort the human form. In some of his most recognized works, a human head is elongated and rendered through a stainless steel mesh of letters or symbols, or as a totem-like bronze or resin-and-marble-dust sculpture.
These pieces, often produced at a monumental scale, are emphatically physical, yet they frequently appear to be digitally imposed onto the landscape because of their odd sense of perspective or matrix-like forms. While some suggest a sense of serenity, particularly those depicting a face with eyes closed, others, such as Alchemist, evoke the energy of thought, with frenetic collages of letters, numbers, or symbols that appear to be in the process of organization.
Alchemist is related to Plensa's El Alma Del Ebro (2008) and Nomade (2010), both of which are composed of a stainless-steel fretwork of randomly arranged letters, painted white and used to outline the negative space of a faceless person sitting with knees drawn to their chest. However, instead of consistently scaled letters, Alchemist employs numbers and mathematical symbols of varying sizes—the number six and the delta symbol are particularly prominent—which more actively convey a sense of thinking and calculation. The sculpture was produced at a more modest scale than its precedents, which allows the figure to seem more approachable, and an opening at the foot of the sculpture invites a viewer to step into the open mesh of the work. Plensa considered this sculpture an "homage to all the researchers and scientists" who have contributed to scientific and mathematical knowledge at MIT.
Jaume Plensa (b. 1955) was born in Barcelona, Spain. After studying in his hometown, he lived in several other countries, including Belgium, France, Germany, and the United States, before returning to Spain. He is most known for his exhibitions and sculptural installations incorporating sculpture, sound, and language. Since 1996, Plensa has also produced stage and costume design for some of the world's most important operatic productions. He has taught at the École Nationale Supérieure des Beaux-Arts in Paris and the School of the Art Institute of Chicago, from which he received an honorary doctorate in 2005. Solo exhibitions of Plensa's work have been organized at the Fundació Joan Miró, Barcelona; Galerie Nationale du Jeu de Paume, Paris; Kunsthalle Mannheim, Germany; Musée d'Art Contemporain, Lyon; and Kestner Gesellschaft, Hannover, Germany, among many others. His works are also in the collections of the Kemper Museum of Contemporary Art, Kansas City; Museum of Modern Art, New York; and Museo Nacional Centro de Arte Reina Sofía, Madrid. Plensa lives and works in Barcelona.