Aesop's Fables, II, 2005
Mark di Suvero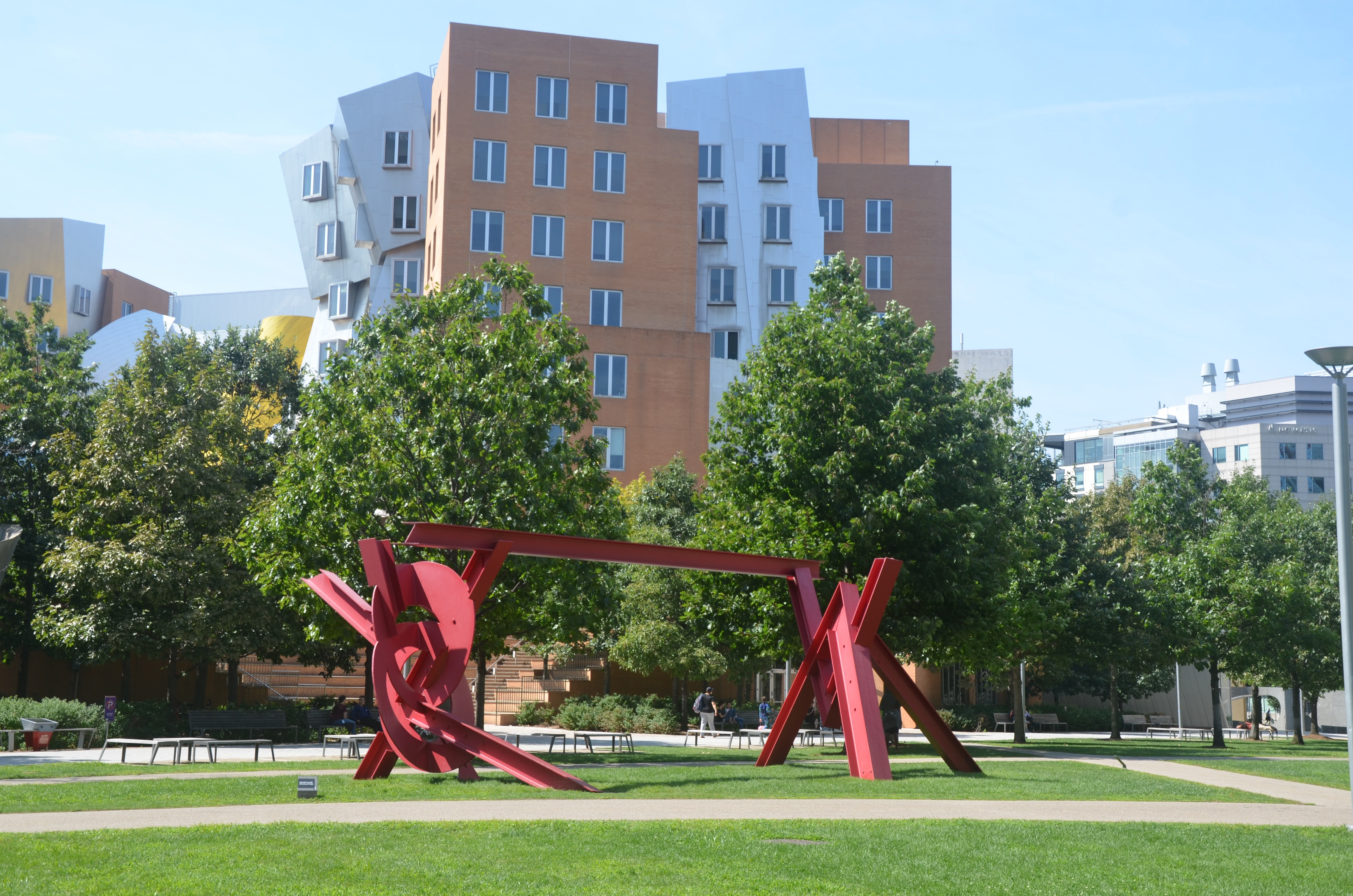 Mark di Suvero is best known for his architecturally-scaled abstract sculptures fabricated from industrial building materials.
The two main components of Aesop's Fables, II are spatially connected by an elevated horizontal I beam, but are formally distinct.In one component, five interlocking I beams positioned at acute angles create a triangular pyramid with an intersecting downward arrow. The composite form appears stable and points toward both earth and sky. In the second component, I beams and curved steel plates create more complex and gestural intersections, resisting recognizable shapes and suggesting fragmentation or collapse. The color red unifies these forms and heightens their visual energy to counter the sculpture's heavy materiality. 
Aesop's Fables, II is installed on Hockfield Court, a site immediately adjacent to Frank Gehry's Stata Center, whose jostling geometric forms are echoed in di Suvero's work. To heighten a viewer's attention to that combinatory logic, di Suvero leaves visible the bolted joints and welds of his sculpture, which was assembled on site. The artist also brings architecture down to human scale. Many of his sculptures are interactive, and their titles refer to specific people or familiar objects. Aesop's Fables, II invites a narrative reading, perhaps an imagination of two figures holding up a horizon line. The negative space of the work allows a person to stand underneath its tent-like forms and consider their size in relation to that of the sculpture and the surrounding built environment. 
Mark di Suvero (b. 1933) was born in Shanghai, China. He is a founding member of New York's Socrates Sculpture Park and has been a pioneering advocate for community-oriented and accessible public art. His work is in over 100 museums and public collections including the Hirshhorn Museum and Sculpture Garden, the Metropolitan Museum of Art, the Museum of Modern Art, the National Gallery of Art, the Whitney Museum of American Art, the Walker Art Center, and Storm King Art Center, where he has had three major exhibitions. Di Suvero's major awards include the Lifetime Achievement Award in Contemporary Sculpture from the International Sculpture Center (2000), the Heinz Award for Arts and Humanities (2005), the Smithsonian Archives of American Art Medal (2010), the National Medal of the Arts (2010), and the American Academy of Arts and Letters Gold Medal for Sculpture (2013).